16/12/2021
FCC Construcción publishes its sustainability report "Environmental Communication 2021"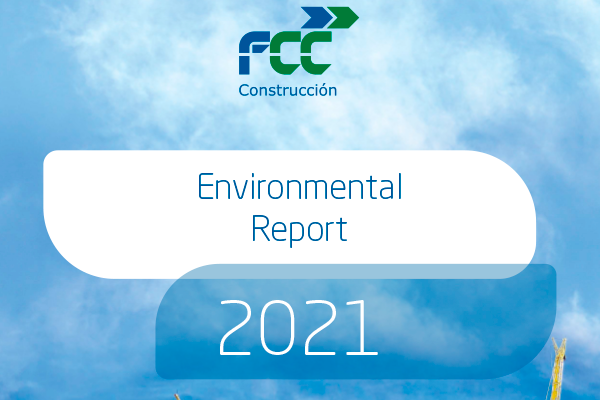 FCC Construcción has published its sustainability report "Environmental Communication 2021". This Environmental Communication collects data on the company's environmental management, in order to account for the performance carried out during 2020. The report incorporates the Sustainable Development Goals (SDG), an international reference framework that It allows actions to be directed towards objectives integrated in the 2030 Agenda approved by the United Nations.
The pursuit of the achievement of these objectives allows directing the actions and creating an understandable plan for the social and environmental areas that impact the agreed measures. FCC Construcción is a pioneer company in incorporating the SDGs into the corporate structure. The Sustainable Development Goals were integrated into the sustainability reports since 2015.
The circular economy is established at FCC Construcción as a fundamental strategy to minimize the impacts of activity on the environment. The company structures the circular economy strategy around the six action areas defined by the ReSOLVE framework, created in 2012 by the Ellen MacArthur Foundation, the main global benchmark in this area.
As part of the fight against climate change, the company was a pioneer within the sector in implementing in 2010 a Protocol for the measurement of Greenhouse Gases (GHG) in construction, aimed at quantifying these emissions and working to reduce them. FCC Construcción was, likewise, the first Spanish construction company to verify its GHG emissions report by an accredited external company, and has, since 2012, had the Carbon Footprint certificate "CO2 Environment verified".
In this context, actions are planned at the European level aimed at collaborating in the transition to a clean economy. The 2030 Agenda gives way to the more ambitious 2050 Agenda, which aims to make the EU a climate neutral zone for that year. To this end, a series of support for industry and investment in technology will be deployed along with a renewal of European infrastructures unprecedented in recent years. The construction industry is seen as one of the essential industries in the transition, so the role of FCC Construcción in the achievement of this plan is critical and vital, and demands that the measurement and reduction of gases continue greenhouse effect.
FCC Construcción will continue with the process that began more than 20 years ago and that reinforces the commitment and work for the creation of resilient infrastructures, built with the highest social and environmental considerations, creating a better present and ensuring the future of the next generations. FCC Construcción leads the transition towards a responsible and sustainable economy, carrying out leading international infrastructure projects that ensure the responsible use of resources, adaptation to climate change, energy efficiency, reduction and correct disposal of spills, waste and integration of new economic paradigms such as the principles of circular economy. All this thanks to the constant innovation processes that it implements in its activities and that allow the development of new working methods and the application of new technologies.
Download the "Environmental Communication 2021" by clicking here