01/08/2022
Revenues from the construction area of the FCC Group increase by 11.4% in the first half of 2022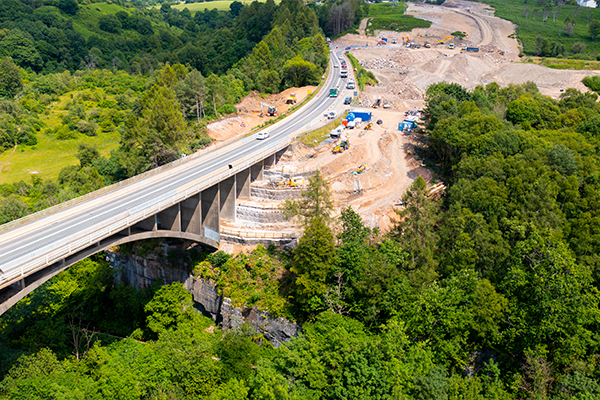 Revenues from the construction area of the FCC Group increased in the first half of the year by 11.4% to 855.5 million euros due to the sustained good pace of project execution. By geographical area, in Spain the turnover fell by less than 5%, to 394 million euros. In the opposite direction, in the projects for the rest of Europe and other markets, the turnover grew by 14.9% compared to the previous year and reached 194.8 million euros, mainly due to the development of the A‐9 hiway in the Netherlands and A ‐465 in Wales (UK).
In Latin America and the US, turnover grew significantly to 189.6 million euros, largely supported by the greater contribution of the Maya Train project in Mexico, together with the sustained progress of the Lima Metro and the advances in other works in Colombia and Chile. The Middle East concentrates the reduction in revenues in the area, down 8.3%, due to the lower activity recorded in the construction of the Riyadh metro in Saudi Arabia. It should be noted that this work has extended its completion until April 2024, with an additional contract for FCC Construcción of more than 200 million euros, to which will be added, with greater activity in the future, the recent award of a tunnel in the Neom region, in the northwest of the country.
The gross operating result increased in the first half of the year by 21.5% to 56.1 million euros compared to 46.2 million euros the previous year. This increase is based on the evolution of income together with the upward regularizations in the margin of the degree of progress in certain international projects. In this way, the operating margin in the period reached 6.6%, a level higher than that reached in previous intermediate periods. With these figures, the construction area of the FCC Group contributes almost 10% of the total EBITDA of the FCC Group.
The net operating result recorded was 40.8 million euros compared to 32.3 million euros the previous year, reflecting the positive evolution of the gross operating result.
The revenue portfolio increased at the end of June to 5,168.4 million euros, an outstanding 29.8%, and more strongly in the international area, mainly due to the new contracts signed as the initial phase of the RER‐3 project in Canada or that of the Sotra bridge in Norway, in addition to the increases in the reach of the Riyadh Metro or the Maya Train in Mexico.
By type of activity, civil works continue to dominate, with 82.51% of the total, which is concentrated in large public contracts in certain key and selective markets in Europe, America and the Middle East.