FCC Construcción obtains the contract for the reform of the Philosophy building of the University of Zaragoza
12/09/2018
FCC Construcción obtains the contract for the reform of the Philosophy building of the University of Zaragoza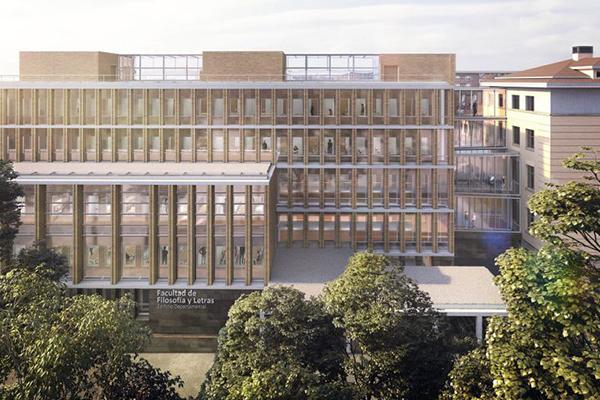 The construction area of the FCC Group has obtained the contract to reform the Philosophy building of the University of Zaragoza. The Consortium (FCC Industrial, Copisa, Estructuras Aragón) formed and led by FCC Construccion, will develop the reform project that includes three fundamental interventions: rehabilitation of the historic building of the Faculty; the demolition of the Philology pavilion and its replacement by a new building, and the urbanization of the surroundings.
The contract amounts to more than 17 million euros and has an execution period of 36 months. The project will minimize the energy needs of construction, being a building at the forefront of European requirements in the building sector. The new construction will have a thermal envelope that effectively reduces heat losses in winter, while in summer the heat will dissipate decreasing the cooling needs and favoring the comfort of the users. Exhausted in this energetic balance, hybrid solar panels will be integrated, capable of supplying hot water and electric energy thanks to solar radiation.
The new technologies will help to reduce CO2 emissions through monitoring systems that allow intelligent use of the building, enhancing user comfort with minimum consumption. In particular, the lighting system will be able to self-regulate according to the existing natural lighting and the occupation of the space. Electric vehicle recharging systems and bicycle parking systems will also be incorporated to guarantee access in sustainable mobility. The building to be built and renovated by FCC Construccion will obtain the "well building" seal, guaranteeing a healthy habitat for the user.
FCC Construccion has carried out works in Zaragoza such as the Hospital Clínico Universitario, Museo del Fuego, the new Ibercaja office and congress building, the Expo Zaragoza aquarium, the Veruela Monastery National Parador or the school of arts and design. In terms of civil works, the construction area of the FCC Group has executed, the tram, the bridge of the Fountains, the dam of La Loteta or Barasona, the tunnels of the AVE Delicias station, the Water Park or the Ronda Hispanidad among others.