29/12/2017
The FCC Construcción Centroamérica News Bulletin is already available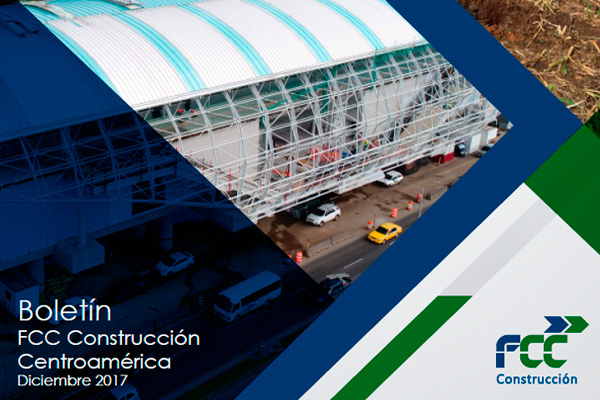 The FCC Construcción Centroamérica New Bulletin is already available on the FCC Construcción Panama and Costa Rica Web site. The December 2017 edition summarises the main news events of 2017 – projects, 2018 projects, internal communication and CSR.
The subjects are:
PROJECTS
Line 2 of the Panama Metro progressed to 60% in 2017.
Ciudad de la Salud progressed satisfactorily in 2017.
FCC maintains the Chorrera - San Carlos section of the Pan-American Highway.
Recognition for technological innovation for FCC in Costa Rica.
2018 PROJECTS
FCC wins the competition to improve the "Los Chinamos - El Ayote" road in Nicaragua
FCC wins the competition to wide the Playas corridor section I to six lanes.
INTERNAL COMMUNICATION
World Recycling Day competition.
Campaign to prevent and combat conjunctivitis.
'Me, with you.' 25 November, International Day for the Elimination of Violence Against Women.
Great little artists unleash their creativity.
Climate change, a threat. What to do in a flood?
CSR
For a million hectares in Ciudad del Niño.
Rehabilitation of access streets to Ciudad del Niño.
Rose and celeste, colours for life.
FCC Costa Rica collaborators save lives by donating blood.
Entrepreneurship is sown every day.
Small artists, great painters.
Guadalupe has a new face
The health of the inhabitants of La Valdeza is a priority for FCC
For a cleaner community.
We're improving environmental practices in the Managua branch.
FCC collaborates with road maintenance and cleaning projects in communities in La Chorrera.
You are invited to visit the News Bulletin.