11/11/2022
New milestone achieved in the Variante de Pajares Project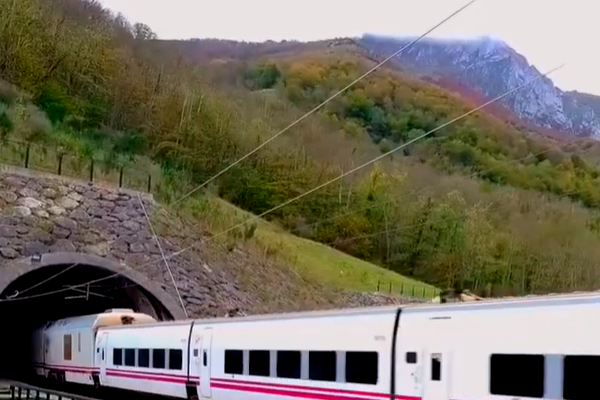 Yesterday a new milestone was reached in the execution of the Pajares Bypass: the first trip by electrified train between the PAET of La Robla and Campomanes. This first trip was made by the Minister of Transport, Mobility and Urban Agenda, Raquel Sánchez together with the President of the Principality of Asturias, the Government Delegate, the President of ADIF and other authorities. With this act, a new milestone is reached in the execution of the Pajares variant that will allow to connect Asturias with Madrid in 2 hours and 43 minutes. During the act, the General Director of Adif Alta Velocidad, Juan Pablo Villanueva, made a brief presentation of the work before the media and the authorities present, in which he explained the technical characteristics of the variant and in which he highlighted "the excellent execution of the road", work carried out by FCC Construcción.
FCC Construcción has been present in the construction of the Pajares variant since its inception in 2004, participating in the execution of the main sections that comprise it, lots 1 and 5, the waterproofing and drainage works of the tunnels and finally the assembly of the road in practically all of it.
With this action, FCC Construcción and Convensa, once again postulate as the highest reference in Spain and one of the main worldwide, in the execution of slab track. Both companies have executed, among other projects: the Guadarrama tunnels, the access sections to Galicia between Pedralba and Orense and the aforementioned Pajares bypass.
You can see the video of the project by clicking here.