FCC puts into service line 5 of the Bucharest Metro, the first major transport infrastructure inaugurated in Europe after COVID-19
17/09/2020
FCC puts into service line 5 of the Bucharest Metro, the first major transport infrastructure inaugurated in Europe after COVID-19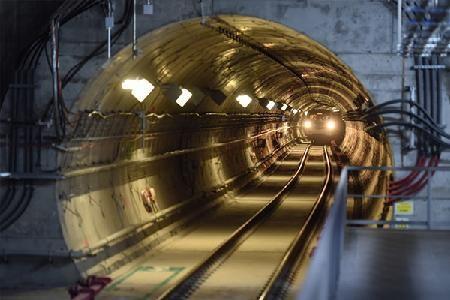 FCC Construcción has put into service line 5 of the Bucharest metro (Romania), the first major transport infrastructure inaugurated in Europe after COVID-19. The opening ceremony was attended by the President, Prime Minister, Minister of Transport and other authorities of the country.
The project consists of the design and construction of section 1 of line 5 of the Bucharest metro, between the Raul Doamnei and Eroilor stations. The amount of the contract for Bucharest metro line 5 amounts to more than 400 million euros.
7.7 kilometers of line have been executed in two tunnels, as well as a 260-meter gallery that connects with line 1 of the metro. Both tunnels have been made with two tunnel boring machines with an excavation diameter of 6.60 meters. The project includes the construction of 10 stations.
In addition, work has been carried out to replace affected services as well as exterior urbanization, track infrastructure, electromechanical facilities and ticketing, as well as the interior finishes of the stations.
All the stations built are underground and central platform type (Raul Doamnei, Brancusi, Romancierilor, Parc Drumul Taberei, Drumul Taberei 34, Favorit, Orizont, Academia Militara, Valea Ialomitei and Eroilor 2 and have depths of 15 to 20 meters. Eroilor Station 2, connection works have been carried out with the capital's metro lines 1 and 3. The Valea Ialomitei station also acts as a depot and workshop, which has five tracks.
The project figures give an idea of its magnitude. More than 238,000 cubic meters of earth have been excavated through tunnel boring machines; 144,000 square meters of concrete screens; 7,463 segment rings; 44,000 cubic meters of concrete used in structures.
FCC Construcción and its experience in the metro
FCC Construcción has built more than 326 kilometers of metro around the world.
It has developed important extensions of the Madrid metro, highlights Metrosur and the extension of metro line 10; line 9 of the Barcelona metro. In the international arena, it has developed subways such as the one in Athens (Greece), Doha (Qatar), Toronto (Canada), the first and second metro lines in Panama.
At present, it continues to develop line 2 and 4 of the Lima metro in Peru and lines 4, 5 and 6 of the Riyadh metro (Saudi Arabia), which is the largest engineering and construction contract developed by a Spanish company.