FCC Construcción and Convensa have carried out the load test of the viaducts of the Arroyo de la Charca-Grimaldo section
13/03/2018
FCC Construcción and Convensa have carried out the load test of the viaducts of the Arroyo de la Charca-Grimaldo section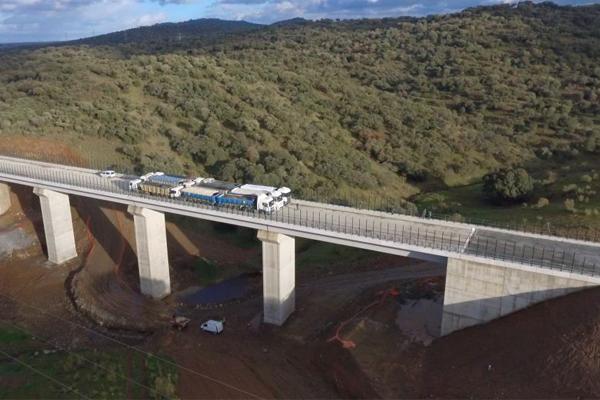 The infrastructures area of the FCC Group and Convensa carried out, on March 1 and 2, the load tests of the four viaducts located in the Arroyo de la Charca-Grimaldo sub-section, belonging to the High Speed Line (LAV) Madrid- Estremadura.
The load tests consist of the location of different configurations of loads on the viaduct before its commissioning, in order to confirm that the construction has been carried out satisfactorily. The test has also served to verify that the structural behavior corresponds to the expected and is totally satisfactory.
Load tests have been carried out on the four viaducts of the sub-section, which are: the viaduct over the Perbetano Stream, 175 meters; the viaduct over the Arroyo del Judío, 140 meters; the 280-meter Viña de los Frailes viaduct and the 350-meter viaduct over the Arroyo del Rivero.
To carry out the load tests of the different viaducts, a total of 44 control points to measure have been determined, for which nine trucks of 40 tons each have been required, grouped in three rows and separated from each other at a distance. of few centimeters. Additionally, several passes of a single truck have been made on the viaducts, with a weight of 26 tons, to check their behavior before dynamic loads and determine that at high speeds, such as those that will happen with the passing of trains, they do not occur remarkable vibratory phenomena.
State of the works
The work is executed to 95%, finding the platform in the absence of sub-ballast and communication channel. In the case of the four viaducts, it remains to execute its waterproofing once the load test has been carried out. Other pending actions are the service roads adjacent to the platform and the closure of the section, as well as various environmental actions, including hydro-seeding and plantations.