19/04/2022
FCC Construcción wins the GO Rail Expansion project - On-Corridor Works in Ontario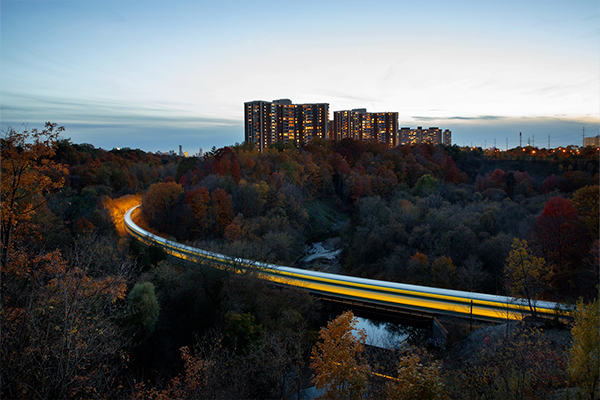 FCC Construcción announced today that ONxpress Transportation Partners has executed an agreement with Infrastructure Ontario (IO) and Metrolinx to design, build, operate and maintain the GO Rail Expansion - On-Corridor Works project in the Greater Toronto Area (GTA).
The project will electrify and transform the existing Ontario GO rail network into a system that will deliver two-way, all-day service. ONxpress Transportation Partners is a consortium comprised of Aecon Group Inc., Fomento de Construcciones y Contratas Canada Ltd (fully owned by FCC Construcción S.A.) (FCC), Deutsche Bahn International Operations GmbH and Alstom Transport Canada Inc. FCC holds a 50 per cent interest in a civil joint venture with Aecon, which is undertaking the construction.
The contract begins with a two-year collaborative development phase. Certain construction and early works activities will commence during this phase, with operations and maintenance activities anticipated to commence after the development phase.
The GO Rail Expansion program will deliver 15 minute or better, all-day service on the core GO rail network. That means a train turning up every 15 minutes or less in each direction at every station between Union and Burlington on the Lakeshore West Line, Union and Bramalea on the Kitchener Line, Union and Bradford on the Barrie Line, Union and Unionville on the Stouffville Line, and Union and Oshawa on Lakeshore East.
This will transform the way this region will move and will make it easier for customers to connect and get where they need to go.
About FCC Construcción
With cumulative experience of 120 years, the construction area of the FCC Group is present in 24 countries (Spain, Canada, United States, Mexico, Brazil, Colombia, Chile, Peru, Panama, Costa Rica, Dominican Republic, Nicaragua, Guatemala, Romania, United Kingdom, Belgium, Norway, the Netherlands, Ireland, Portugal, Egypt, Saudi Arabia and Qatar) and its activities cover all areas of engineering and construction.
It is a leader in implementing transport infrastructure, as well as residential and non-residential construction. FCC Construcción is currently the fourth largest construction company in Spain, in terms of contract volume, and in the top 40 in the world according to the ranking by the international magazine, ENR (Engineering News-Record). It has a proven track-record in implementing projects under the concession regime and has a group of companies dedicated to the industrial sector, grouped together under the FCC Industrial brand, as well as other activities related to the construction sector.
FCC Construcción has been present in Canada for more than 25 years. In 1998 it was awarded the Federicton-Moncton Highway construction, operation and maintenance project. In 2011, it was awarded the contract for the expansion of a section of the Toronto Metro expansion, the city's first modern subway infrastructure work. This project was completed in 2017.