16/04/2018
FCC Construccion begins the works of access to the station of La Sagrera, in Barcelona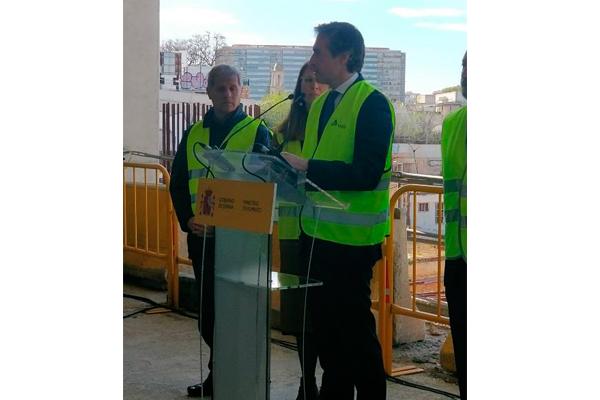 FCC Construccion begins the works of access to the station of La Sagrera (Barcelona), paralyzed since 2014. This week, the Minister of Development, accompanied by the Secretary of State for Infrastructure, the president of ADIF and the deputy mayor of Barcelona , visited the works of access to the station of La Sagrera. They supervised the resumption of the works awarded to FCC Construccion, together with other companies (Ferrovial, Copisa and Rubau Constructions).
The project has a budget of 192 million euros and contemplates the execution of the accesses to the La Sagrera station in the city of Barcelona, belonging to the Madrid-Barcelona-French Border High Speed Line.
The works include the necessary platform works for the implementation of the UIC gauge tracks, the necessary infrastructure for the conventional gauge tracks of the Vilanova-Mataró and Vilafranca-Maçanet lines, belonging to the Rodalies de Cataluña network, and the facilities of security and communications of both infrastructures.
In addition, an area called "logistics" will be built, which will be used to maintain high-speed trains, equipped with five platforms of variable length. On the other hand, the construction of the necessary infrastructure to house a bus parking area is also included in the project.
Finally, once the railway corridor has been reorganized, the area affected by the works will be urbanized in such a way that both margins of the city of Barcelona are communicated, which are currently separated by the corridor.
FCC Construction railway experience
The construction area of the FCC Group has executed more than 2,600 kilometers of railway, both infrastructure and superstructure, in any of the modalities of this means of transport, from the high-speed railway to the metro or the new trams, including the maintenance and renovation of existing lines and the construction of new stations as terminals in large cities. The construction area of the FCC Group, has executed more than 900 kilometers of high speed, more than 326 kilometers of metro and 65 kilometers of tram with an experience of 11,000 kilometers of maintenance of railway track.