21/05/2018
FCC Construccion participates in the General Assembly and in the 34th PIANC World Congress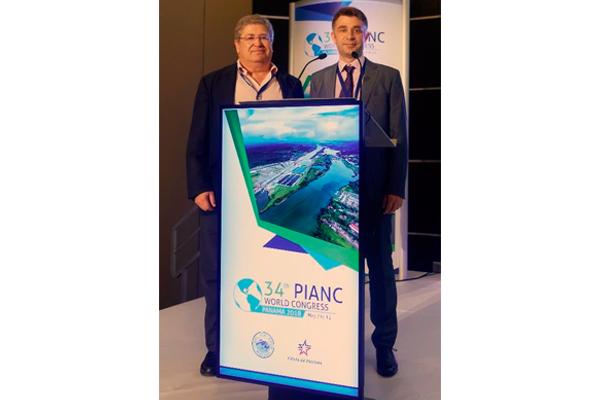 The construction area of the FCC Group has participated in the General Assembly and in the 34th World Congress of PIANC (International Association of Aquatic Transport Infrastructures - World Association for Waterborne Transport Infrastructure). The last days of May 4 to 6 and from May 7 to 11, the PIANC 2018 General Assembly was held in Panama City as well as the 34th PIANC World Congress, of which FCC Construccion is a member through the section of the Technical Association of Ports and Coasts.
The 34th Congress brought together more than 600 aquatic transport infrastructure specialists from different countries, with the aim of promoting, conserving and exploiting the navigable waterways, coastal zones and ports, with the Panama Canal being the main sponsor of the event.
The PIANC organization, with more than 2,000 members and more than 450 corporate members from around the world, was founded in 1885 and aims to study technical aspects and develop guidelines for the design and construction of maritime infrastructures. In order to keep the shipping community updated, PIANC holds an international congress every four years. This is the first time that the PIANC organization has carried out an event of this kind in Latin America, with this country and the Canal as benchmarks for economic development and progress in the region.
The central theme of the PIANC 2018 Congress was the impact of Panama and the Canal on world maritime trade, as well as the importance of technical aspects in terms of inland navigation, logistics and infrastructure, dredging systems and port management.
FCC Construccion participated through Francisco Esteban, technical director, in the presentation of the 2017 Annual Report of MarCom (Maritime Commission); in the presidency of session 1 Track F "Current dredging & Management Innovations" and in session 12 Track E "Martitime Port Planning and Operations".
In the presentations, FCC participated in "Early Warning System to support Construction & Management of Port Infrastructures - The case of TX1-Açu Port Construction" IH Cantabria and FCC Construccion and in "OptiPort - An Innovative Harbor Decision-making Tool" PROES, FCC Industrial, Port Authority Bay of Algeciras.
Experience in maritime works
FCC Construccion presents in its portfolio numerous maritime and fluvial works of great technical complexity throughout the world. For this, it has machinery in its possession and a Technical Services team capable of innovating in each of its accomplishments and following up on all its works throughout the world. Between the references they emphasize: Port of Badalona (Barcelona), Dike of Monaco, Navy of Laredo (Cantabria), Pier 4 of the naval base of Rota (Cádiz), Expansion of the superport of Açu (Brazil), Port of El Callao (Peru) ), Floating floating dock of the Puerto de la Condamine (Principality of Monaco) and the new lock of the port of Seville.