09/02/2021
FCC Construcción participates in the SDG AMBITION accelerator program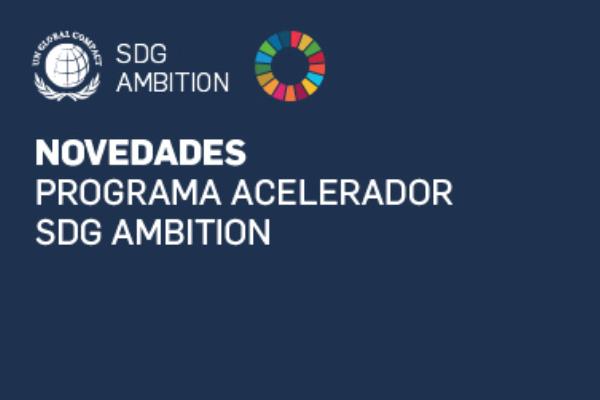 FCC Construcción participates in the SDG AMBITION accelerator program The United Nations Global Compact in partnership with Accenture and SAP, and with 3M as a sponsor, has launched SDG Ambition, a pioneering acceleration program for up to a thousand companies worldwide to increase the ambition of their operations and improve their business under the parameters of the Sustainable Development Goals (SDG). This international program is managed in our country by the Spanish Global Compact Network and has Accenture in Spain as a strategic partner.
SDG Ambition aims for companies to increase their ambition in the SDGs and modify their operations and relationships with stakeholders, as well as to assist them in the design of processes to ensure that actions and objectives are fully integrated into the business strategy. The integration plan for these companies will end in July. Internationally, it has 700 organizations, 69 of which are Spanish.
The world is not moving towards meeting the SDGs at the necessary pace and scale. While it is still possible to redefine economies and societies towards the 1.5 degree trajectory and achieve the SDGs by 2030, urgent, scalable and all-stakeholder action will be needed to dramatically accelerate progress. SDG Ambition is designed to help companies meet this necessary change.
Cristina Sánchez, executive director of the Spanish Global Compact Network, has stated in this regard that "by translating the level of ambition in the SDGs into concrete corporate aspirations, actions and results, we intend that companies have a substantial impact in helping the world to meet the global objectives of sustainable development and we are proud that the representation of Spanish companies is so significant ".
A methodology aimed at closing the gap between commitment and action
The methodology of this accelerator program includes setting ambitious corporate goals that address the world's most complex and pressing challenges. Studies by the Spanish Global Compact Network show that for years there has been a substantial difference between companies' commitments to the SDGs and the establishment of quantifiable commitments that make them improve. For example, 97% of IBEX35 today commits to achieving the 2030 Agenda, but only 49% of these companies report specific objectives. In the case of the rest of the Global Compact companies in Spain, it goes from 80% of committed entities to 24% that present objectives.
Another pillar of the program are implementation guides that highlight the key steps and decisions that business leaders can make to track sustainability performance. For example, they show how companies can implement better data management processes throughout the company that put sustainability and social responsibility on a par with other business metrics and enable them to make faster decisions based on understanding business drivers, environmental and social.
In addition, participants have access to multimedia resources, peer activities and by the end of the program, they will have a plan to set and achieve ambitious goals by taking advantage of technology to improve their performance.
Spanish companies that are part of the program
1A Ingenieros S.L.P.
Enusa Industrias Avanzadas,
S.A., S.M.E.
Plan B Group
Abanca Corp. Bancaria, S.A.
Europa Mundo Vacaciones SLU
Port Aventura Entertainment
S.A.U.
Abertis Infraestructuras
FCC Construcción, S.A
Promotora de Informaciones
S.A. (PRISA)
ABN Pipe Systems, S.L.U.
Ferrocarrils de la Generalitat de Catalunya
Publiservic Canarias, S.L.U.
Actiu Berbegal y Formas, S.A.
Grupo Ilunion, S.A.
Recuperación Materiales
Diversos, S.A. (RMD)
ADIF - Administrador de Infraestructuras Ferroviarias
Grupo Servicio Móvil
Red2Red Consultores, S.L.
Alain Afflelou España, S.A.U.
Grupo Sorolla Educación
Redsys Servicios de
Procesamiento, S.L.
Ambar Legal S.L.
Iberdrola S.A.
Revenga Smart Solutions, S.A.
Andaluza de Montajes
Eléctricos y Telefónicos S.A
ICEX España Exportación e
Inversiones
Rigual, S.A
Aubay Spain
Idex Ideas y Expansión, S.L.
Samarketing S.L.
Banca March S.A
Indra
Sanitas S.A. de Seguros
Bioazul, S.L
Ingeniería de Sistemas para la
Defensa de España S.A,
S.M.E, M.P. (ISDEFE)
SanLucar Group
BSM, S.A. (Barcelona de
Serveis Municipals, S.A.)
Irizar S. COOP.
Solunion Seguros, Compañía
Internacional de Seguros y
Reaseguros, S.A
Bureau Veritas
Isla Centinela, S.L.
Sostenibilidad a Medida
Canal Isabel II S.A.
J&A Garrigues, S.L.P.
ST Consultores Inmobiliarios,
S.L.
Canvas Estrategias Sostenibles
La Buena Huella
Supracafé, S.A.
Cementos Molins, S.A
Natra S.A.
TRANSFESA - Transportes
Ferroviarios Especiales, S.A.
Cia. Española de Aislamientos
SA
Navantia, S.A., S.M.E.
TUI Holding Spain SLU
Comsa Corporación
Nechi Group
Unicaja Banco S.A
Creativialab Marketing, S.L.
Onhoff Technologies &
Solutions S.L.
Uría Menéndez Abogados,
S.L.P
DACSA - Maicerías Españolas
S.A.
Paradores de Turismo de España S.M.E.S.A.
Voices of Leaders

Empresa Municipal de
Servicios de Medio Ambiente
Urbano (EMULSA)
Parques Reunidos Servicios Centrales S.A.
X-Elio Energy S.L
Enagas
Pegasus Aerogrou
Endesa, S.A.
About the Spanish Global Compact Network
The United Nations Global Compact operates in Spain through the Spanish Network, which currently has 1,809 entities adhering to this initiative of corporate social responsibility, of which 21% are large companies, 61% are SMEs and 18% They are other types of entities (third sector, business associations and educational institutions). Its objective is to promote the implementation of the Ten Principles of the Global Compact among the signatory entities for business sustainability and to work on the SDGs with companies and the private sector.