26/11/2018
FCC Construccion launches its twitter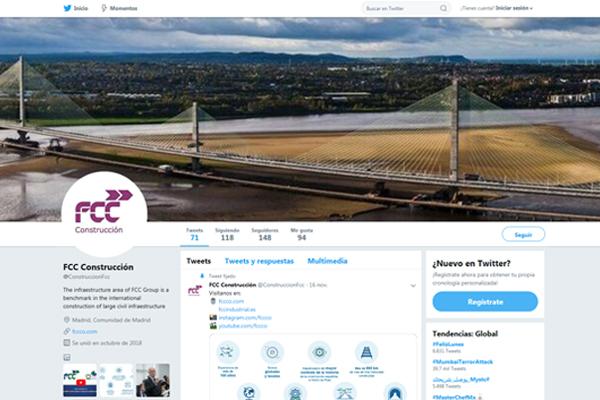 The Construction area of FCC Group already has its own twitter account @ConstruccionFcc. Within the process of digitization and dynamization of the RRSS that is being developed by the communication and marketing department of the construction area, we have proceeded to publish our own twitter account for FCC Construccion.
The advantages are multiple:
Branding and promotion: brand positioning is reinforced and we effectively transmit the projects we execute in the world to our stakeholders.
Community: we generate a group of followers, all of them under the values, principles and vision of the company.
Visibility: improves our SEO positioning within Google, indexing our profile to the network.
Impacts: we achieve greater impact among our targets, thus achieving different daily followers, geolocating our publications and enhancing our resources.
Campaigns: allows us to give maximum visibility to our campaigns.
Analytics: thanks to the use of Twitter Analytics we can consult our kpi's on interaction and number of followers.
Currently FCC Construccion presents 146 followers on twitter, 1264 followers on Instagram, 19,506 followers on LinkedIn and 9,295 followers on YouTube channel with more than 217 videos and 4,397,267 views.
Follow us at @ConstruccionFcc