FCC Construcción is the first construction company to participate in the Target Gender Equality program
15/03/2022
FCC Construcción is the first construction company to participate in the Target Gender Equality program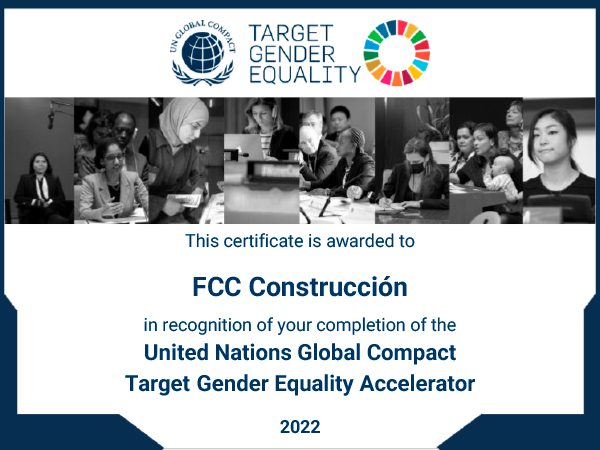 FCC Construcción has become the first Spanish construction company to participate and finish in the second edition of the Target Gender Equality. Target Gender Equality is a gender equality accelerator program for companies participating in the United Nations Global Compact.
The program has more than 550 entities at an international level, 37 of them Spanish, positioning Spain as the second country with the largest number of adhered companies.
The data from this second edition show that 96% of the companies have already implemented an action plan and/or are identifying actions that collect the lessons learned from the TGE with regard to the representation and leadership of women in their business.
Through performance reviews, capacity-building workshops, peer-to-peer learning and multi-stakeholder dialogue at the country level, Target Gender Equality helps companies committed to the United Nations Global Compact set and achieve ambitious corporate goals. for women's representation and leadership.
Companies that participate in Target Gender Equality have the opportunity to deepen the implementation of the Women's Empowerment Principles and strengthen their contribution to Sustainable Development Goal 5.5, which calls for equal representation, participation and leadership of women in business throughout world level.
Companies will be equipped with the latest data and research supporting the business case for gender equality and gain insights from UN partners and experts on how to accelerate progress on gender equality.
Objective Global Coalition for Gender Equality
The Target Gender Equality Global Coalition brings together expert organizations committed to advancing women's business leadership to support the launch of Target Gender Equality around the world and help amplify the call to set ambitious corporate goals for representation and leadership. of women in business.
Business leaders around the world agree that gender equality is a business priority. The business case for taking a holistic approach to gender equality is clear: advancing gender equality is not only the right thing to do, it is also good for business and a key component to achieving the Sustainable Development Goals (SDGs). Research shows that companies with high female representation have 3 percentage points higher annual returns (Morgan Stanley, 2019) and female business leadership is linked to better ESG performance, including reduced greenhouse gas emissions greenhouse, stronger labor relations, and a lower incidence of fraud, insider trading, and other unethical practices (IFC, 2019).