08/02/2018
FCC Construcción starts work on the Toyo tunnel (Colombia)
The contract includes the design, construction, operation and maintenance of the tunnel for a period of 10 years.
The tunnel will be the longest in Latin America, with a length of 9.8 kilometers.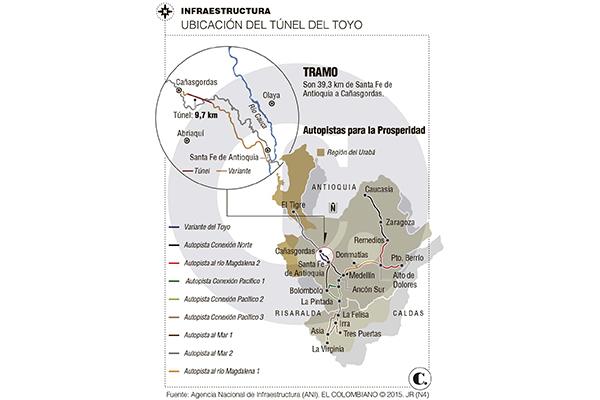 FCC Construcción starts work on the Toyo tunnel, which will become the longest tunnel in Latin America.
The works have a budget of 392 million euros and an execution period of 10 years for the design, construction, operation and maintenance of the tunnel Toyo, of which the first two years have been invested in the design and tasks prior to the construction of the project.
The project, located between the municipalities of Giraldo and Cañasgordas, involves the construction of a road section redrawing of 18.3 kilometers in length two-way and one lane in each direction. Also, the entire project includes the construction of 12.3 kilometers of tunnels, of which 9.8 kilometers for the tunnel Toyo inserted into the new road to Uraba, which crosses areas of difficult access.
The works will substantially improve connectivity Medellin and Uraba region. At present, the route between the capital of Antioquia and Urabá takes place in six hours, which, once the infrastructure executed by FCC Construcción starts operating, will be reduced to three and a half hours for private vehicles and four hours for private vehicles. trucks.
During the construction phase that begins, 1,500 direct jobs and some 2,500 indirect jobs will be generated. The development of this infrastructure will benefit a population of 6.5 million inhabitants.
This contract represents another step in the presence of FCC in Colombia, whose activity in this country dates back more than 25 years with the construction of the Medellín metro. FCC Construcción has developed unique works such as the dredging of the Bogotá River in the vicinity of the capital, the construction of the El Dorado airport control tower, also in the capital of the country, or the construction of the Wastewater Treatment Plant (WWTP) of El Salitre. For its part, the industrial area of FCC Construcción participated in the design and implementation of the signaling system of Medellin subway along with the execution of the power line of 500 KV in Cundinamarca region located in the center of the country.