27/12/2016
FCC Construcción inaugurates the Andalusian Contemporary Creation Centre (C3A) (Córdoba)
On 19th December, the President of Andalusia, Susana Diaz, along with members of the Andalusian Government Culture Department and representatives of FCC Construcción, Jose A Madrazo (South Director) and Mr. Luciano Hidalgo (Andalusia Director), inaugurated the Andalusian Contemporary Creation Centre (C3A) in Cordoba.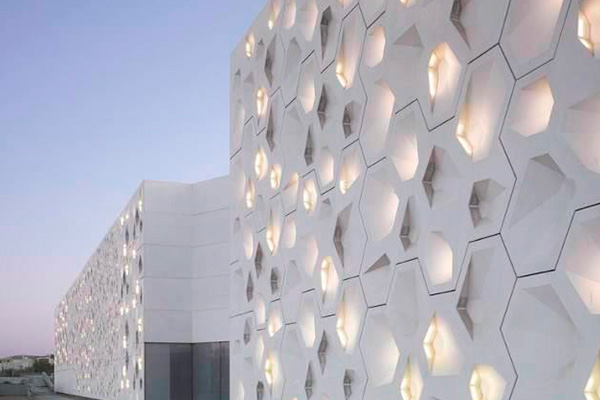 The unique building, designed by architects Enrique Sobejano and Fuensanta Nieto, is situated in the Campo de la Verdad- Miraflores neighbourhood, on the south bank of the Guadalquivir river, in Córdoba. This features 12,207 m2 distributed over 4 floors, including the basement and rooftop. The hexagonal building accommodates different types of rooms, such as artists' workshops, laboratories, showrooms. The assembly hall (black box) is designed as a suitable performance venue for theatre performances, conferences, or as a unique venue for audiovisual exhibitions.
This features a facade composed of GRC prefabricated panels, which at times are clad in opaque and perforated facades, or rather, make flat or sloped covers in the halls. The lighting of the building is designed by monochromatic LED type lights, housed in the building facade.
The Andalusian Contemporary Creation Centre is a venue created with the aim of becoming the reference centre for artistic creation and production in the region. It will be a centre for artistic creation which will closely link architectural space with art and the public.