FCC Construccion completes the restoration of the Sant Tomás de Riudeperes Monastery, in the province of Barcelona
27/03/2018
FCC Construccion completes the restoration of the Sant Tomás de Riudeperes Monastery, in the province of Barcelona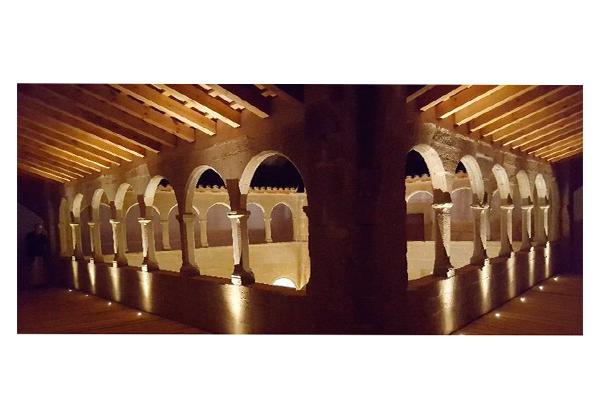 The construction area of the FCC Group has completed the restoration of the Monastery of Sant Tomás de Riudeperes in Calldetenses (Osona), Barcelona. FCC Construcción has carried out the structural consolidation of the cloister and the rehabilitation of the roofs.
The building presented pathologies derived from the deterioration of the different construction systems. FCC Construcción has developed solutions to restore part of the monument, aimed at the preservation, restitution and consolidation of spaces of greater architectural and heritage value. The roof of the cloister presented great structural deformations in pillars and vaults.
To solve it, the cloister roof was completely dismantled and rebuilt with new natural wood beams. Likewise, one of the vaults was reconstructed, affected by the entrance of water, with ceramic pieces that reproduce the geometry and the original construction system. In the church the roofs were rehabilitated, replacing the structure and restoring the terrace with stone slabs of Folgueroles, returning to the original architecture. At present, the monastery has no activity.
The semi-basement and part of the ground floor are used as a store for food products from organic farming produced in the fields adjacent to the farm. The complex also has a sports hall located north of the monastery and an isolated building, built around 1980, and expanded in 2007, where the occupational workshops are located.
A little history
The monastery of Sant Tomás de Riudeperes has its origins in the 11th century, as an Augustinian canon. In the sixteenth century it was converted into a Franciscan convent. In the year 1901 it was acquired by the camilo religious (using it as a seminary and college) which made remodeling works. In 1912, the reconstruction project of the monastic building was drafted and, in 1914, the church of Romanesque origin was restored. The whole of the building is of large dimensions, with a semi-basement floor of 515 square meters; a ground floor of 1,123 square meters; a first plant of 1,109 square meters of surface and a second one of 805.