FCC Construcción delivers 400 coloring books with illustrations of the "Parque Mapocho Río" project to the local school community
03/12/2021
FCC Construcción delivers 400 coloring books with illustrations of the "Parque Mapocho Río" project to the local school community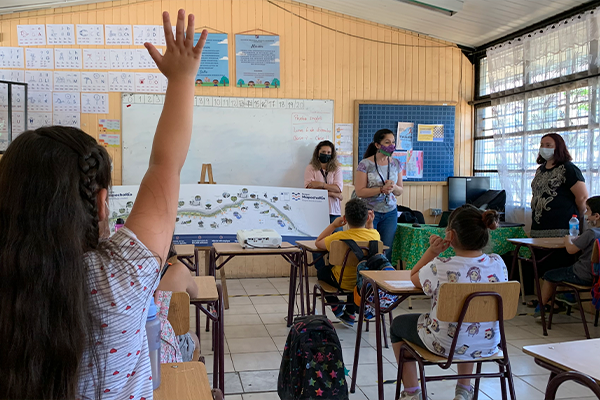 FCC Construcción has delivered 400 books with illustrations of the "Parque Mapocho Rio" project to the local school community, in order to bring the community closer to the future Parque Mapocho Río. Housing and Metropolitan Urbanization), delivered 400 coloring books in educational establishments near the work in development.
The activity -which took place in several days- consisted of different visits to the visiting classrooms in their classrooms to children between 6 and 8 years old, to whom a general presentation of the project was made and they were told about landscaping and care enviroment. Finally, the invitation was to color and transform, they were invited to be "ambassadors of Mapocho Río Park".
The book contains 36 plates, corresponding to the facilities and spaces that Parque Mapocho Río will contain. Its design was commissioned by FCC Chile from a national illustrator specializing in this type of children's initiatives.
Parque Mapocho Río is a project that seeks to recover and revitalize the south bank of this river in the western sector of Santiago. At the end of its construction - planned for 2022 - it will have an area of 9 kilometers in length on 52 hectares. It is the largest urban work project with green areas contemplated in the current program of the Ministry of Housing and Urbanism of Chile, and the second largest urban project at the national level.