26/07/2023
FCC Construcción Chile completes the second section of the Mapocho Rio Park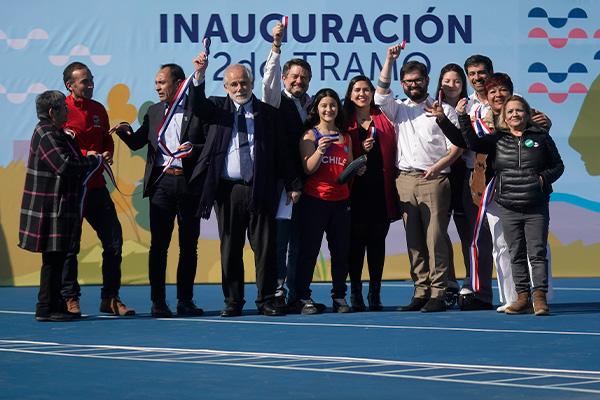 FCC Construcción Chile has completed the second section of the Mapocho Rio Park. This section was inaugurated by the President of Chile, Gabriel Boric, the Minister of Housing and Urbanism, Carlos Montes Cisternas, the Minister of Sports, Jaime Pizarro Herrera, as well as other authorities locals, who toured some of the sports facilities built.
During the inauguration, the following were visited: the multi-court, the climbing wall; soccer field; skating rink among other facilities.
The inauguration of the second section of the Mapocho Río Park is a milestone for the residents and also for the inhabitants of the region who will have more equipment to develop physical, sports and recreational activities. It is a great advance to have new social and sustainable infrastructure.
During the construction of the park, FCC Construcción Chile contemplated a process of citizen participation through territorial dialogues with the residents of the commune. Section two of the Mapocho Río Park has an extension of 8.2 hectares. Among its main facilities executed are:
International standard skating rink. Inside the speed track there is a hockey rink and a practice area for figure skating. The skaters who will compete in the Santiago 2023 Pan American Games are currently training on this track.
Climbing wall: with three types of climbing walls.
Water games
Additional equipment:

4 entrances with goals
1 administration building
2 buildings with public restrooms
1 dressing room building
professional soccer field
Multicourt
sports square
calisthenics square
ping pong tables
slacklining
Children's playgrounds
Picnic zone
Bikeway
5 viewpoints
Vehicle and bicycle parking
8,000 square meters of lawn (9.8% of the total area)
FCC Construcción Chile has executed one of the largest social, sustainable infrastructures in Chile. A sports infrastructure that connects territories unites neighborhoods in the city of Santiago and rehabilitates an area with a high ecological value. It is the largest urban regeneration project in the country.