10/10/2018
The Metropolitan Wanda, built by FCC Construccion, elected the best stadium of the year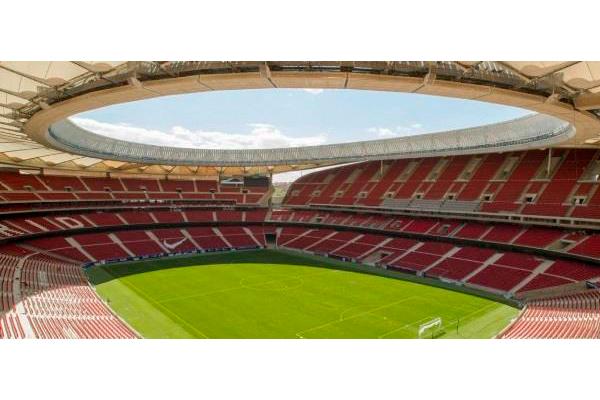 The Wanda Metropolitan Stadium, built by FCC Construccion, has been chosen as the best stadium of the year for the "Industry Awards" awards given by the "World Football Summit".
Wanda won the stadiums, Mercedes-Benz Stadium in Atlanta and Century Link Field in Seattle.
The stadium occupies a total area of 88,150 square meters and has a capacity to accommodate more than 68,000 fans, distributed in general and VIP area. In addition, it has more than 1,000 parking spaces for fans inside the stadium and 3,000 outdoor parking spaces.
The distribution of the new stands makes it possible for the fans and / or spectators to be close to the field. The new stadium has three new bleachers in the shape of a "T", a low bleacher formed by 28 tiers in the bottoms and in the areas of preference, a medium bleacher of 13 stands for Vips with direct access from the outside and finally , a high bleachers supported on a 32-tier perimeter building, where the public accesses, VIP boxes and complementary services are located.
Special mention requires the roof of the stadium, consisting of a steel structure of about 6,336 tons, tensioned with radial cables and joined with a membrane that occupies an area of 83,053 square meters.
The membrane consists of 720 panels of PTFE (polytetrafluoroethylene), which has a weight of 92 tons. The cover covers the bleachers and will contribute to 96% of the locations being protected from rain. This is a unique and differentiating element to the rest of European sports facilities designed in recent years.
The new stadium is the first stadium in the world to have LED technology entirely, transforming the skyline of the city of Madrid.
FCC has executed more than 25 large facilities around the world that have hosted some of the major sporting events in disciplines such as football, tennis, motorcycling and athletics. Avant-garde, sustainable and functional facilities, infrastructures in which FCC Construccion has put in value its technical and human capacity to overcome great challenges and challenges. Efficiency, innovative solutions and the use of the latest technology have been a guarantee of success, demonstrating why the company is a benchmark in this field.