The Consortium, in which FCC participates, advances in the construction of the New International Airport of Mexico City
08/03/2018
The Consortium, in which FCC participates, advances in the construction of the New International Airport of Mexico City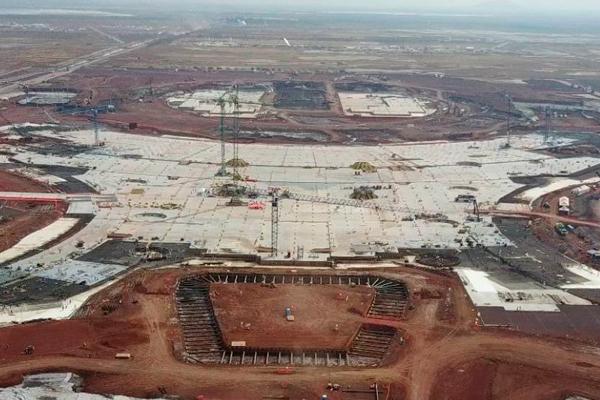 The Consorcio Constructor of the Terminal of the New International Airport of Mexico City called CTVM (Constructora Terminal Valle de México) and formed by Operator CICSA, GIA, Prodemex, Hermes Infrastructure, ICA, Acciona Infraestructuras and FCC advances in the construction of the New Airport International Mexico City.
This month of February the first of the 21 foniles (funnel-shaped columns) that will support the roof of the Terminal Building of the New International Airport of Mexico (NAIM) began. Each of the foniles is made up of two structures, internal and external, the latter will allow the capture of rainwater for its treatment and use, as well as the entry of air and natural light into the Terminal Building.
Each of these structures will have a maximum height of 45 meters and will be built in steel, with a weight of 357 tons (220 tons of structure and 137 tons at its base). Some data from NAICM The New International Airport of Mexico City, it is an international project designed by the architects Fernando Romero and Norman Foster. This project has been cataloged worldwide as one of the most innovative, both in its construction and operation techniques.
Currently the New Mexico City International Airport is the second largest airport under construction worldwide, being six times larger than the current airport, being used by 70 million passengers per year; with an average of 191,000 daily passengers. The new airport terminal in Mexico will be one of the first sustainable airports in the world, certified with the Leed Platinum seal. The new terminal will have an area of 743,000 square meters and a length of 1.5 km. It will have 96 contact doors; 68 remote positions and three parallel tracks; that will operate simultaneously and allow up to 550 thousand flights per year.