17/11/2020
FCC celebrates tolerance and stands up for diversity on the International Day for Tolerance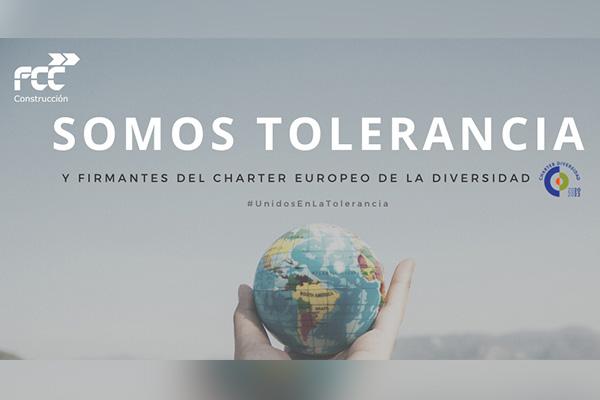 Today, FCC has expressed its commitment to tolerance in observance of the International Day for Tolerance, which aims to promote mutual understanding between cultures and people across the world. Through the campaign of Fundación para la Diversidad, with whom the company has renewed its commitment to the Diversity Charter on a yearly basis since 2014, FCC observes this day and supports their actions to stand up for diversity in our society.
Diversity Management is one of the FCC Group's commitments, which aims to promote the necessary cultural change required to address the challenges that the company faces as a result of its growing internationalisation and to optimise how teams of people with diverse profiles are managed within the organisation.
The Diversity Charter's principles adhere to the provisions of the company's Equality and Diversity Policy, which establishes the integration of diversity as a central piece of its activities.
The FCC Group aims to create an organisational environment that matches the organisation's external diversity, which attracts, retains and empowers people of diverse profiles, who bring new options and points of view, creative solutions, and knowledge of cultural and economic diversity of markets, promoting a culture that allows it to establish a connection between the corporate values and the priorities and needs of FCC's people.
About the Diversity Charter
The Diversity Charter is an initiative of the European Commission's Directorate of Justice for the development of its non-discrimination policies. Fundación Diversidad, sponsored by Fundación Alares, is the only entity responsible for giving this seal in Spain, which responds to a voluntary commitment code to support and promulgate the principles of the inclusion of diversity and non-discrimination at the workplace.