ECO-EFFICIENT BY-PRODUCTS THAT ARE SUITABLE FOR THE MARKET THROUGH THE INTEGRATION OF RECYCLED PRODUCTS IN PORT ENVIRONMENTS

Objective
Achieve practical reuse and under market conditions, of elements such as recycled aggregates, of construction and demolition waste (CDW) in port environment applications (floor-cement, pavements and protection blocks).
Its main goals are:
Define the optimal composition, as well as the physical and chemical properties of recycled aggregates to be used in marine environments.
Establish suitable doses for the "new" cement-soil materials, concrete for pavements and concrete for protection blocks of port works through experimentation.
Study the adequacy of the physical, mechanical and durability properties of concrete made with recycled aggregates, with and without sea water.
Certify the behaviour of new materials at a real scale, through the execution of the three case studies in pilot ports.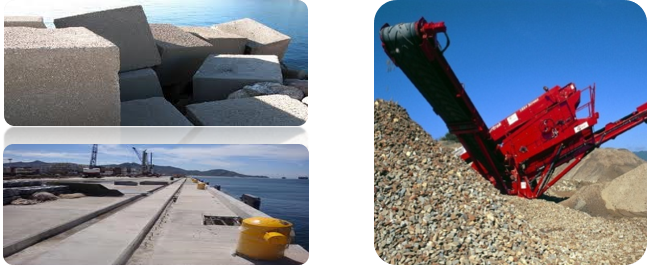 2012-2015