ADVANCED AND HIGH-PERFORMANCE PROCESS FOR THE PREVENTION OF OCCUPATIONAL HAZARDS IN CONSTRUCTION WORKS, WITH THE IMPLEMENTATION OF THE BIM METHODOLOGY

Objective
Development of an innovative and advanced high-performance process for the prevention of occupational hazards in construction works, with the use of the BIM methodology. The development of a methodology and tool designed for the reduction of risks associated to workplace and on-site accidents, as well as the minimisation of resources used by the construction companies in the field of Health and Safety.
Main technical goals:
Analysis of the management of prevention systems at the planning level.

Help the Health and Safety manager take decisions, with the support of a virtual model of the works that incorporates the time-space planning of preventive measures and protective equipment.
Possibility of choosing between various regulations within the tool.
Facilitate the preparation and approval of the Safety Plan.
Update the sector training method.

Design of prevention system management procedures during the execution phase.

Facilitate the management of PPE and collective protection systems.
Build on the rapport between the construction team, prevention technicians and BIM teams, by having collaborative consultation support.
Develop an innovative on-site risk control system.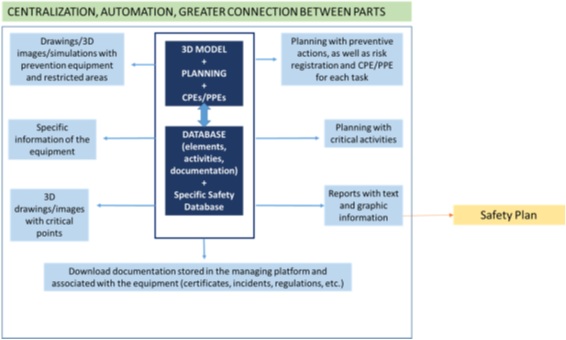 2019 -2021