DRONE-BASED AUTOMATED LINEAR CIVIL ENGINEERING INFRASTRUCTURE MONITORING SYSTEM

Objective
The main goal of the project is to develop a centralised automated monitoring system for the execution of infrastructures in linear civil works (highways, dual carriageways, roads, bypasses, railways and stations, large-volume earthworks, stability of slopes and channelling networks) based on drones with advanced technological features, specifically developed within the framework of the project, as well as on a new technological platform for data exchange, treatment and distribution.
An industrial grade vehicle will be developed, one that can be adapted to all linear civil work scenarios, which will enable automated data acquisition.
The drone will automatically capture the point cloud associated with the project and link it to a 3D model generating tool, thus allowing the implementation of the BIM methodology and integration with GIS technology (GeoBIM model).
The data collection process, its processing as a digital model and the collection of results applicable to the requirements of the civil work in each of the stages of the construction process will be automated.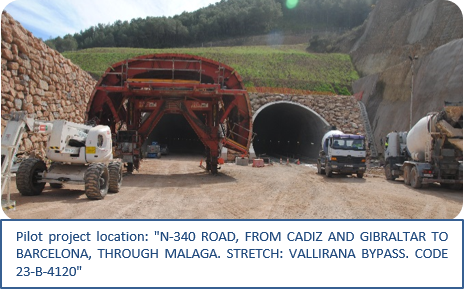 2017-2019