DEVELOPMENT OF A NEW ADVANCED SOLUTION FOR THE OPTIMISATION OF INTEGRATED, EFFICIENT AND SUSTAINABLE MANAGEMENT OF THE WATER RESOURCES OF A HYDROGRAPHIC BASIN

Objective
Development of a new technologically advanced universal tool that allows decision-making in the comprehensive management of the hydraulic public domain at a hydrographic basin level, with the purpose of optimising the availability and quality of the resource guaranteeing the satisfaction of demands. For this, the new tool must be capable of generating simulations of water use scenarios, as well as the prediction of the states, according to the different weather phenomena, changes in hydromorphological conditions and variations in the physical-chemical and biological quality of water.
Development of an integrated, sustainable and efficient supply management module, guaranteeing the preservation of resources and water quality.
Modelling of water and hydrogeological processes using a numeric calculation method and implementation in an advanced tool to simulate the behaviour of the flow and accumulation of surface water.
Assessment of the hydromorphological state through the development of indicators. Integration of the influence of these indicators in the global management tool.
Numeric modelling of transport processes associated with polluting solutions, as well as their implementation and integration in an advanced simulation tool.
Development of new advanced instrumentation networks for gathering, transmitting and storing input data of the global model.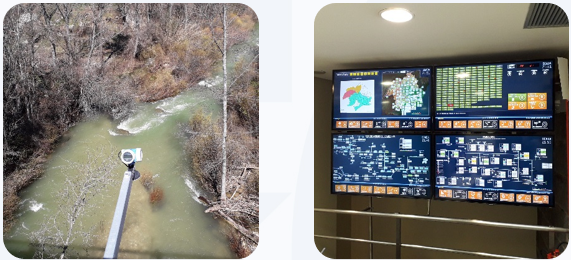 2018-2019