CYCLE LANE: SUSTAINABLE, ENERGY-SELF-SUFFICIENT, SMART SYSTEM, DECONTAMINANT, INTEGRATED AND SAFE

Objective
Development of a new generation of cycle lanes, which will be modular, produced with sustainable materials and a custom design for the integration of various technologies and according to the needs.
Specific goals:
New applications in polymeric materials with porphyry waste and use of porphyry on cycle lanes as a non-slip surface texturing material.
Obtaining a new binder for AAM materials developed for use of waste and supplemented with industrial by-products.
Two new types of AAM materials (dense mix and porous mix) developed from AAM binder and promoting the use of porphyry fractions as aggregates.
Development of a new system based on magnetostrictive materials that generate energy, which is specially designed for cycle lanes.
Development of multifunctional cycle lane modules using sustainable materials and new construction procedures adapted to these.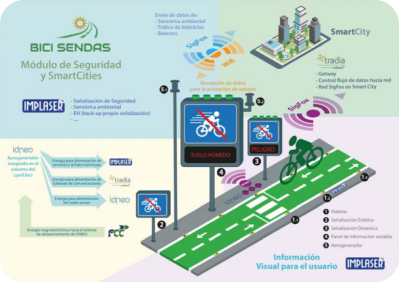 2019-2023