04/06/2018
Members of the European Commission visit the Vidin-Calafat Bridge, in Bulgaria, Romania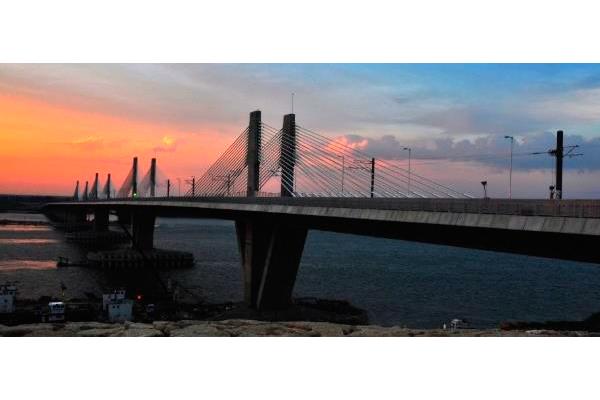 On May 29, members of the European Commission (Representation Office in Romania), embassies of the EU Member States in Romania, the Romanian Minister of Foreign Affairs as well as members of the Economic and Commercial Office of the Embassy of Romania Spain in Romania, made a visit to the Vidin bridge, built by FCC Construcción and inaugurated in 2013.
The purpose of the visit lies in the projection, by the European Commission, of a positive image of the contribution of EU funds to the economic development of the member states. Therefore, he wanted to publicize this infrastructure project funded by the EU, for its emblematic nature to have facilitated the interconnection of two European member states such as Romania and Bulgaria.
The Economic and Commercial Office of the Embassy of Spain in Romania, among the services it provides, is providing support to companies in their internationalization in the Romanian market.
The Vidin-Calafat bridge, built by the construction area of the FCC Group, connects Bulgaria with Romania and represents an important advance in communications between both countries. The new bridge has a length of 1.9 kilometers, with the uniqueness of combining road and rail traffic: the same bridge transits on one side, cars and trucks and on the other, the train. Both cities are thus interconnected through four lanes, a bicycle lane and two sidewalks for pedestrians and services, in addition to the train track.
FCC also made the rail and road accesses to the bridge, which included a new freight station, the rehabilitation of the existing passenger station and 17 new kilometers of rail.
The project of the Ministry of Transport, Information, Technology and Communications of the Republic of Bulgaria, is an axis of communications that channels all freight and passenger traffic between southern Europe (Greece, Macedonia and Turkey) and the north (Germany, Poland, Czech Republic, Slovakia and Hungary) without having to go through countries that are not members of the EU. In addition, the Vidin-Calafat bridge represents an important saving of time to move between both countries.