Lines 1 and 2 of the Panama Metro, exceed 2.6 million passengers, during its partial opening for the JMJ
04/02/2019
Lines 1 and 2 of the Panama Metro, exceed 2.6 million passengers, during its partial opening for the JMJ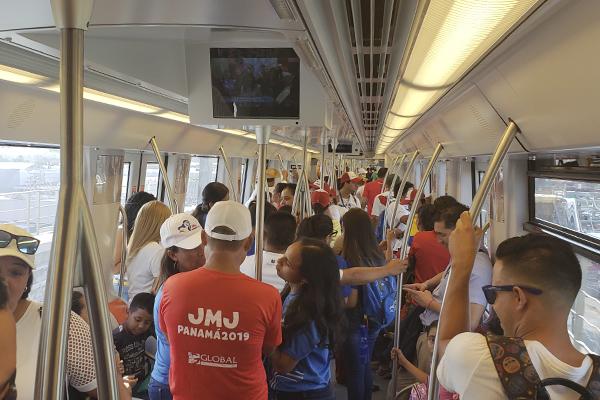 Lines 1 and 2 of the Panama metro have exceeded 2.6 million passengers during the celebration of the JMJ held from 22 to 27 January.
In Line 1, 2,054,400 passengers were transferred and in Line 2, more than 579,000 passengers were mobilized, which means in this line a mobilization of more than 100,000 passengers per day.
During WYD, more than 150,000 kilometers were traveled, with a network availability of 99.99% for all pilgrims and panamanians. Throughout the event, all available trains were used: 26 on Line 1 and 12 on Line 2.
These figures on the one hand show the clear and strong commitment of FCC Construcción for Panama, as well as the capacity and experience of the company in the development of fundamental projects for the Panamanian. FCC Construcción has been developing infrastructures in Panama for more than 20 years, including line 1 and 2 of the country's Metro. At present, the company continues to develop the construction project for line 2, as well as the branch line of the same line to the Tocumen International Airport.
The complete project will have 16 stations and will have a length of 21 kilometers of elevated track, connecting the eastern neighborhoods of Nuevo Tocumen in 35 minutes and December 24 with the northern district of San Miguelito, where it will link with Line 1.