The Netherlands Minister of Infrastructure and Water Management visits the A9 Badhoevedorp-Holendrecht project
16/03/2021
The Netherlands Minister of Infrastructure and Water Management visits the A9 Badhoevedorp-Holendrecht project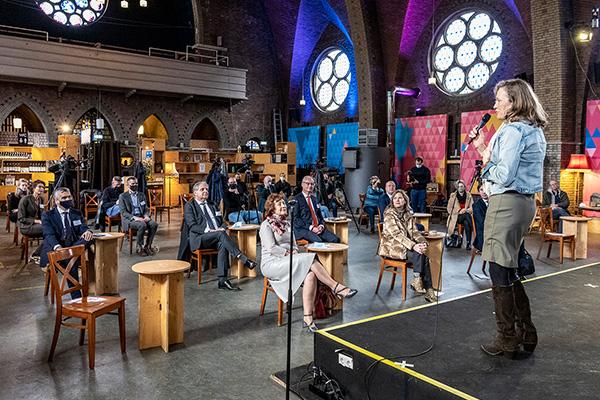 The Netherlands Minister of Infrastructure and Water Management has visited the A9 Badhoevedorp-Holendrecht extension project. The event was developed in the Anna church, in which a viewpoint has been opened, which will allow to contemplate the evolution of the project. In addition, photographs and different works of local art have been included in this area, in clear support of the regional cultural sector. The event was attended by FCC, Pablo Ovejas, Director of Belgium, Norway, the Netherlands and Sweden.
The project, designed and executed by FCC Construcción, consists of the remodeling of a 10.4 km section of the A9 motorway, which includes the expansion of the platform, with the passage from three to four lanes in each direction, and the consequent expansion of the structures, in addition to that of the links with other roads, including bridges and underpasses. Additionally, the 1.5 km underground highway will be executed in the surroundings of the city of Amstelveen, which will be covered with a slab, to create a false tunnel in three different sections, which will allow the execution of a new park about him. Another noteworthy aspect is the extension of the bascule bridge over the Schiphol canal, whose deck has to be replaced, and it will be done in compliance with very strict technical and deadline requirements, to avoid interference with navigation.
The project will be executed maintaining traffic on the existing highway. This will require a significant planning effort and careful execution, including the management of numerous temporary detours.
FCC Construcción and its experience in highways and highways
FCC Construcción has executed more than 8,500 kilometers of road, highway and motorway works, in the four continents in which it operates, through all the contracting and financing modalities.
In them, the activities carried out have included the planning, design, construction of roads, interchanges, auxiliary roads, tunnels, bridges or other types of structures that were part of the projects; including in some cases the rehabilitation and maintenance of infrastructure.