09/02/2021
The Minister of Foreign Affairs visits the Riyadh metro lines executed by FCC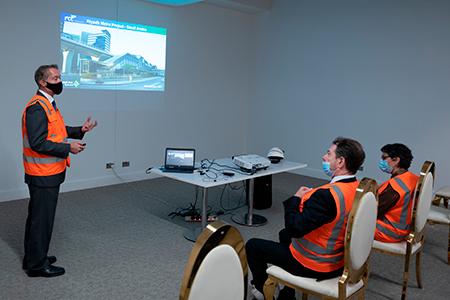 The Minister of Foreign Affairs, EU and Cooperation, together with the Ambassador of Spain in Saudi Arabia, and different Saudi authorities as well as with the Director of the Middle East of FCC Construcción, visited the lines 4-5-6 of the Riyadh metro, executed by FCC. This infrastructure constitutes the largest contract in the history of Spanish construction abroad.
During the visit, it was possible to check the final status of the project, close to its commissioning. This has reached such important milestones as the electrification of the garages of Lines 4,5 and 6, before the outbreak of COVID-19, which allowed the first test of the trains in automatic mode.
The FAST Consortium, led by FCC, and which includes the companies Samsung (South Korea), Strukton (Netherlands), Alstom (France) and Freysinnet (Saudi Arabia), also executes the extension of Line 4 of the Riyadh Metro , with two additional stations, which will serve the King Khalid International Airport (KKIA).
The expansion includes the construction of a 1.5-kilometer-long viaduct and two elevated stations with direct access, via elevated walkways, to terminals 1/2 and 3/4 of the international airport in the capital of Saudi Arabia. In this way, Line 4 of the Riyadh Metro will directly connect the future financial center of the city (King Abdullah Financial District - KAFD) with the KKIA, making it a key corridor for the development of Riyadh's urban transport. The execution of the stations and associated infrastructures by the FAST Consortium will allow passengers to benefit from a direct transport link to the airport.