07/09/2017
The Cañas-Liberia road in Costa Rica awarded for technological innovation by Cemex
The Cañas-Liberia Inter-American road, built by FCC Construcción in Costa Rica, was awarded a prize in the Technological Innovation category in the 11th Cemex Projects Prize on 25 August.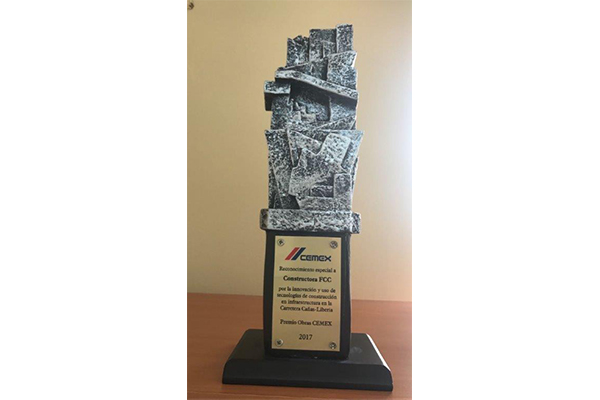 The Cemex Projects Prize is an award recognising the best construction practices in the world and their creators in five categories (residential housing, economic housing, building, group space and infrastructure) and with four special awards (universal accessibility, sustainable building, social value and innovation in construction).
The features classified at the time of announcing the best constructions in Costa Rica include the use and applications of concrete, innovative proposals, project undertaking, structural design and respect for the environment.
The Cañas-Liberia route forms part of the northern Inter-American road through Costa Rica and is 50.61 kilometres long. In its construction, FCC used more than 150,000 tonnes of cement and some 500,000 m3 of aggregates. This road completes the Meso-American corridor and provides Costa Rica with a road that is a milepost in the country's road development, improving transport and trade in the region.
Road safety was a key element in the conception of this project; its alignment includes 11 pedestrian bridges and lane separation barriers to minimise traffic accidents.