28/11/2017
FCC puts a section of the Santiago Lampa motorway in Chile into service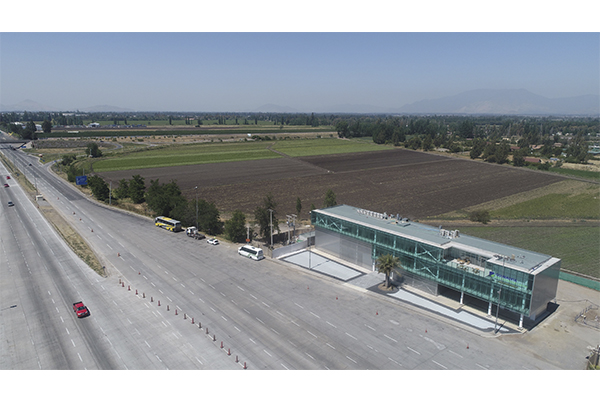 FCC Construcción, the infrastructure area of FCC Group, has put a section of the enlargement of the northern access to Santiago into service on the Santiago Los Vilos motorway. This is a strategic project for the country that involved the building of an urban motorway 15 kilometres long on Route 5 North, which runs from the Quilicura junction to Lampa.
The project started in the second quarter of 2015 with a budget of €185 million, and involves the enlargement to four lanes per direction and three lanes per direction on the service road.
The development of this infrastructure has improved local connectivity with 14 pedestrian bridges and seven junctions for transverse connections. The motorway has also been equipped with continuous lighting and 44 bus stops to meet the needs of the local population. All of this is complemented with the installation of a traffic management system to monitor traffic conditions throughout the motorway, attending to emergencies as quickly as possible through an emergencies control centre. A meteorological station has also been installed to advise users of weather conditions and to alert the measures to be taken for safe driving.
The infrastructure developed by FCC will improve driving conditions for 18 million vehicles per year, saving driving time, improving travel safety for users and improving connectivity between the surrounding centres of population.
FCC Construcción in Chile
In Chile, FCC Construcción has mainly undertaken road infrastructure projects of various types. One of the most notable is the project to improve the Cuesta de las Chilcas, a project that reduced the high accident rates on the Santiago - Los Vilos section of the Aconcagua motorway, the project to improve Route E-775 Puerto Nuevo – Quillaico, the new access to Iquique to improve connectivity between the city of Iquique and Alto Hospicio and the construction of the Marcoleta axis.
FCC Group's infrastructure area also built the bridge over the River Quillén, the bridge over the River Bueno and the Cuesta de Las Chilcas viaduct, all of which are vital projects for communication between the various regions in the country.
Watch the Santiago Lampa motorway video