26/05/2017
FCC shows the progress of the Wanda Metropolitano in Engineering Week
To celebrate Engineering Week, FCC today showed the progress of the Wanda Metropolitano stadium to 25 members of the public. The visit, organised jointly by the Civil Engineers' Professional Association in Madrid and FCC Construcción, showed the main activities and milestones in the new Atlético de Madrid stadium.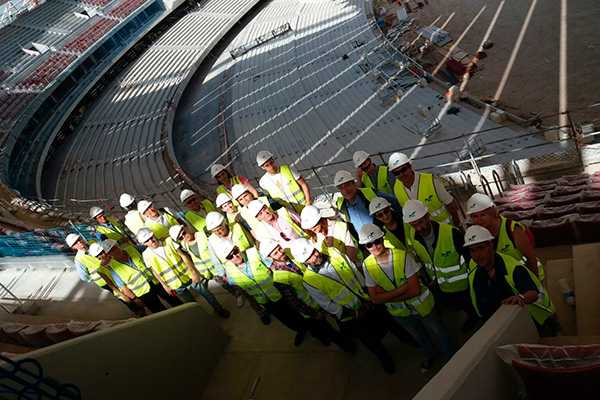 Currently, FCC Construcción is instlling the radial rings of the membrane covering the Wanda Metropolitano grandstands. The roof consists of 720 PTFE (polytetrafluoroethylene) panels providing the 83,000 square metres of roof, a unique and differentiating element compared to the rest of the European sports installations designed in recent years.
FCC has actively participated in the Engineering Week in Madrid. From 22 to 28 May, the public has enjoyed a display of physical means, workshops, demonstrations, visits, seminars and conferences for a closer acquaintance with the professional activity of Civil Engineers.
This year, FCC installed the head of the "La Adelantada" tunnel boring machine in the plaza of the Santiago Bernabéu stadium and one of its GNC hybrid plug-in collector/compactor vehicles, rear-loading and with a capacity of 27 m3, in the Plaza de Ruben Darío.
This visit was designed to show that behind the building of the Wanda Metropolitano stadium are Civil Engineers with their expertise for improving the public's quality of life for enjoying sports and leisure events.