15/01/2019
FCC wins the remodeling contract for the Plaza de España in Madrid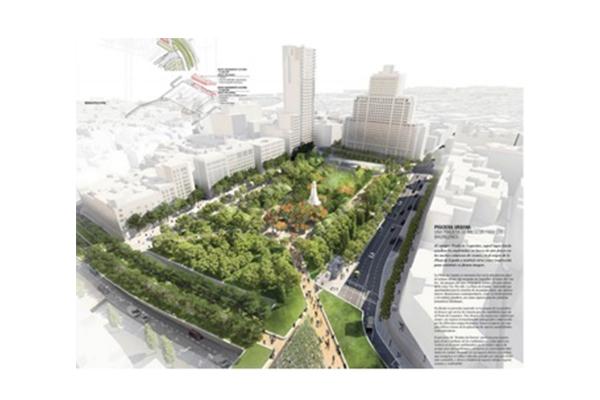 The construction area of FCC Group, together with the company PACSA, have been awarded the contract for the complete remodeling of the Plaza de España in Madrid. The project has a budget of 62 million euros and a deadline of 21 months.
The remodeling of the Plaza de España has been designed by the architects Fernando Porras Isla-Fernández, Aranzazu La Casta Muñoa and Lorenzo Fernández-Ordóñez Hernández, whose project was the winner of the ideas competition organized by the City Council after being selected as a finalist by a jury of experts and later elected by the citizens of the capital "through a broad process of participation".
With the reform to be executed by FCC, a substantial improvement in mobility will be allowed, reducing pollution and therefore benefiting the city's sustainability.
In addition, thousands of jobs will be created that will allow the revitalization of the commerce and the hotels in the area. The project will reduce the motorized traffic, thus increasing the pedestrian spaces and establishing a continuous line of pedestrian and green areas connecting the gardens of the Plaza de Oriente with the Sabatini gardens, the Parque del Oeste and the Templo de Debot and Madrid Rio.
In addition, a pioneer pedestrian crossing will be created in Spain between Gran Vía St., Princesa St. and Reyes St., as it will allow pedestrians to travel simultaneously in all directions and even diagonally.
FCC Construccion has extensive experience in the remodeling of districts and strategic streets of cities: Las Ramblas in Barcelona, urban environment of the City of Arts and Sciences in Valencia, various urban streets in cities such as Malaga, La Coruña, Seville, among other.