13/01/2021
FCC Construcción focuses on cleaning and mobility recovery tasks in the city of Madrid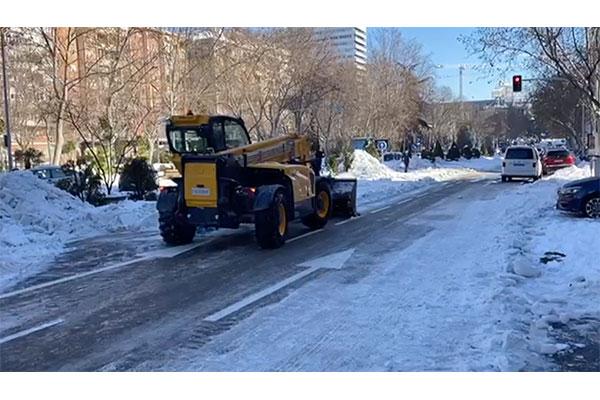 FCC Construcción participates actively and jointly with the Madrid City Council, in the development of cleaning and mobility recovery tasks in the city and Community of Madrid.
The company has made all its machinery available to the Madrid City Council to serve the different neighborhoods and districts of the city, thus putting all the material and human resources at the service of citizens. Specifically, FCC Construcción is working on cleaning the central area of ​​Madrid, La Gavia, Los Berrocales, Vicálvaro, Vallecas, Coslada, Airbus Getafe facilities, Adolfo Suarez Madrid Barajas International Airport, Mercamadrid Poligono, Isabel Zendal Hospital, EMT Sanchinarro garages, Real Madrid-Valdebebas Sports City. In addition, through Áridos de Melo, it has made all the aggregate stored in its plants available to FCC Medio Ambiente, to make pedestrian accesses where it is difficult to remove ice sheets. In addition, the company has made more than 150 workers available to the city, who collaborate in improving the connectivity and accessibility of the different neighborhoods and streets of the capital.
The Mayor of Madrid, Jose L Martinez Almeida, thanked FCC Construcción and Real Madrid for their involvement in cleaning the streets of Madrid. FCC Construcción has made available to the city all the machines available for cleaning the snow that fell after Filomena had passed.
The company continues to work towards the recovery of normality and mobility in the shortest period of time possible, collaborating at all times with the Madrid City Council.