29/05/2018
FCC Construccion receives the best Architecture award of 2017 for its work Royal Collections Museum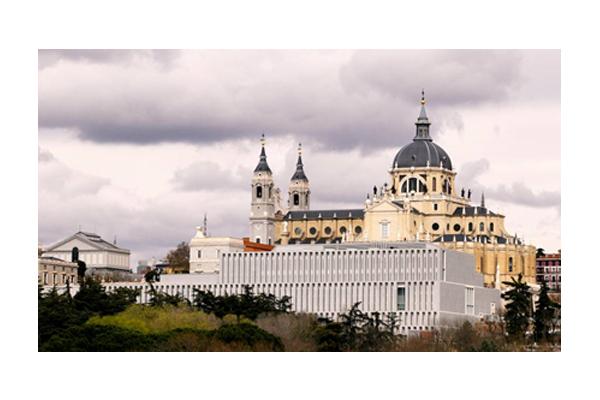 The construction area of the FCC Group has received the best Architecture Award of 2017, for its work Museum of Royal Collections in Madrid.
The award was presented on May 18 by the Superior Council of Architects of Spain and was collected by both architect Emilio Tuñon and José A. Madrazo, director Spain, Portugal and Algeria of FCC Construccion.
With these awards, the Superior Council of the Associations of Architects of Spain (CSCAE) recognizes the architectural and urbanistic excellence, as well as the effort and perseverance of the institutions to promote works of great quality.
In the first phase, FCC Construccion carried out the containment screens and the emptying of the site, in order to enable the necessary space for the implementation of the museum, with the least impact on the environment. FCC Construccion also developed the second phase of this project, which consisted of the foundation and execution of the structure, all of it made of white concrete, with marble aggregate and cement of the same color, as well as the urbanization of the Plaza de la Almudena and surrounding areas. This phase was awarded at the XIII Spanish Architecture and Urbanism Biennial in the Heritage and Transformation category.
The third phase of this project was based on the urbanization of the Plaza de la Almudena and surrounding areas. The action was carried out on 9,500 square meters and consisted of the execution of the roofs and facades of the squares of the Almudena, the Museum of Royal Collections and the Armory, as well as the execution of the carpentry and locksmith works and the urbanization of the environment.
The museum that will house the Royal Collections in Madrid receives the FAD award for architecture in its 59th edition. The project elegantly solves a multiple condition: to provide a space dedicated to the exhibition of large-scale works; to involve the present in the historical series of enlargements of the Royal Palace; and build an urban-scale basement under the city of Madrid seen from its southwest access. The result is a monumental and sober architecture that, with the absence of lyricism, free of details. This great architecture belongs to a family of works that are responsible for preserving the flow of history and set an image of their time.
This center will house the artistic treasures accumulated by the Spanish royal dynasties in its 40,000 square meters. It will have a permanent background with large paintings, for example Salome with the head of the Bautista, Caravaggio, and a rotating collection that will accommodate large works of royal sites (palaces, monasteries, convents, museums) belonging to National Heritage.