11/12/2017
FCC Construccion receives New Civil Engineer Tunnelling award for the Bolaños tunnel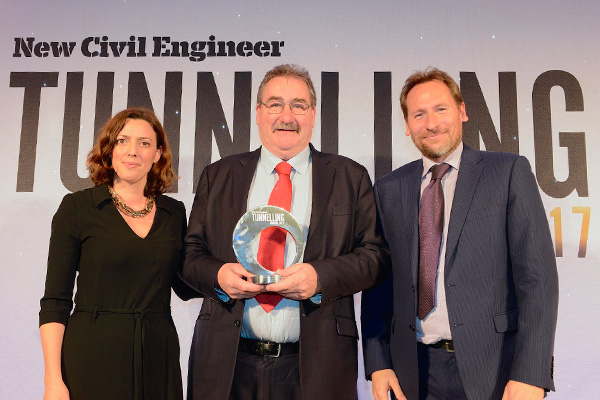 FCC Construccion has been recognised for the Geotechnical Specialist Innovation of the Year at the New Civil Engineer Tunnelling Awards 2017 for its work on the Bolaños tunnel on the Madrid-Galicia high-speed line. Following the successful completion of the tunnelling works in January last year, the project was also shortlisted in the Technology Innovation of the Year; and, Outstanding Contribution to a Project. The winners were announced in London on Thursday 7th December at the Grosvenor House Hotel, Park Lane. The awards were attended by over 400 industry leaders from across the Tunnelling community.
The Bolaños tunnel forms part of the High-Speed Northwest-North Corridor, Madrid-Galicia High-Speed Line Stretch: Vilariño Left Track, crossing the area between Vilarino de Conso and Campobecerros where Porta´s reservoir is. The work on the Bolaños tunnel comprises of the delivery of two parallel single-track tunnels, excavated by a rock TBM. The 6.785 km tunnels include cut-and-cover sections of 18 and 57 m each at both ends. With the exception of 15 m at the eastern end and 70 m of the western end, most of tunnel´s length has been constructed using a TBM machine. This is due to the geological conditions of the mountain and the length of the tunnel.
FCC's award submission highlighted the innovative solution developed by its Technical Services team to the challenging geology. What they came up with was a new procedure of treatment of collapsed material with dual component foams in some parts of the tunnel, and a dual-component back filling mortar injection system & mixed-drilling system (upper part drilled in conventional NATM, bottom part drilled simultaneously with TBM assembly rings). Despite the challenging geology, the innovation enabled the team to achieve good excavation rates that exceeded the best forecasts.
With this announcement, FCC's works on the Bolaños tunnel have now been shortlisted for a total of six awards this year. The other shortlists include: Ground Engineering Awards (International Project of the Year Award, Award for Technical Excellence) and NCE TechFest Awards (Best Use of Technology - Smart Materials). Last year the FCC-led FAST Consortium was also named the Global Tunnelling Team of the Year at the New Civil Engineer Tunnelling Awards for its work on the Riyadh Metro project.
Spain's high speed rail network is now only second to China in the world. FCC has been involved in its construction since the outset, with over 700km of the 3,100km network bearing the company's name. FCC has worked on countless railway projects of all types, both in terms of infrastructure and superstructure: metro, tram, maintenance and renovation of existing lines, and construction of new stations in large cities.