21/02/2018
FCC Construcción publishes the report "Environmental Report 2017"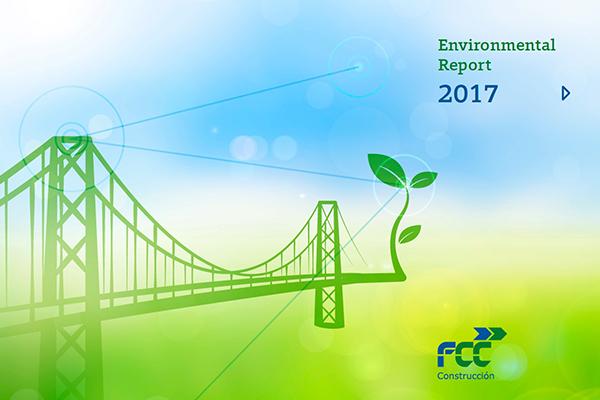 The infrastructure area of the FCC Group has published its Environmental Report 2017. In this document, available to all interested stakeholders, the environmental protection actions and / or good practices that are developed by FCC Construcción throughout all the activities are analyzed, that runs anywhere in the world. This document biennial unifies the environmental performance of the company, stating therein: results, initiatives and FCC Construcción contribution to the environment in which it operates.
Throughout 2016, an average of 26 good environmental practices have been applied per work, being able to highlight, for example, that 99% of the works carry out a display of environmental signaling or that during 2016, the volume of inert to landfill with respect to the volume planned in the project, by 91%, which reflects the company's environmental awareness.
Deepening the environmental data, FCC Construcción highlights the 7.5% reduction in emissions produced from Greenhouse Gases and 33% in the emissions produced from dust, compared to the year 2015.
The infrastructure area of the FCC Group, proposed as a strategic objective in 2000, the adoption of protective practices with the environment, beyond strict compliance with current regulations, and resulting in a decrease in the company's environmental footprint. This system was registered in the General Registry of Intellectual Property, dated July 10, 2009, under the title of "System of evaluation of environmental behavior through good practices." Environmental practices are developed in the following areas: relationship with society, atmosphere, noise and vibrations, water, soil, natural resources, waste, environment and biodiversity and are part of the organization's environmental management system, certified according to UNE-EN ISO 14.001-2015 and integrated into the general management system of the company, applicable to all works and work centers.
This pioneering initiative of FCC Construcción was recognized in 2007 with the Garrigues-Expansión-CIIS Environment Award, in the category of sustainability and corporate social responsibility, for its commitment to sustainable development.
You can download the document here.