30/09/2021
FCC Construcción publishes the 2020 Sustainability Report Update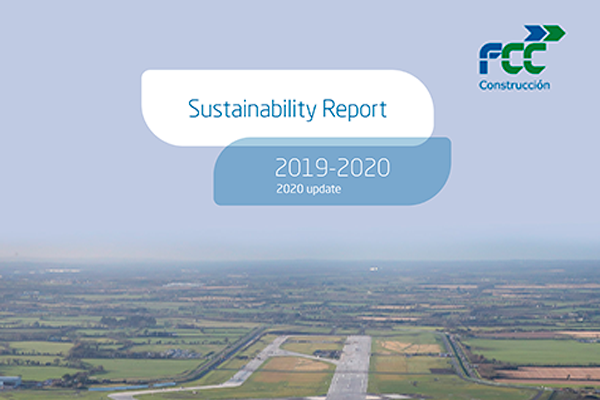 FCC Construcción, a pioneer company in sustainability and circular economy, has published the 2020 Sustainability Report Update, which shows the behavior and performance of the organization in terms of corporate social responsibility, aligned with the Sustainable Development Goals that are They are part of the 2030 Agenda for Sustainable Development.
The Sustainability Report Update is an abbreviated document of the 2019-2020 Sustainability Report, which is updated with the 2020 data to maintain transparency in the communication of the company's results in terms of corporate social responsibility.
Milestones in sustainability achieved
FCC Construcción has become the first construction company in the world to join the United Nations "Sustainable Finance and Investments" group.
FCC Construcción deployed a set of social and business actions to face the health crisis caused by the COVID-19 virus
In 2020, the energy audit was passed in 40 works and fixed centers of FCC Construcción in Spain, covering more than 85% of the energy consumption for the year.
Thanks to the application of Good Environmental Practices, in 2020 more than 27,000 tons of particles were emitted into the atmosphere.
FCC Construcción improved its environmental performance in 2020, reducing the generation of waste, the consumption of materials and energy, which is proof of the company's commitment to circularity and sustainability.
FCC Construcción meets the Management objective, established in 2017, by verifying the Greenhouse Gas emissions of 100% of the countries in which the company operates.
The signing of the III Equality Plan of FCC Construcción is a confirmation of the trajectory of social responsibility to achieve gender equality in the company.
The improvement in training tools such as "CAMPUS FCC" brings the knowledge and training possibilities to the members of the company throughout the world.
The birth of the FCC Group you_ brand promotes diversity, a healthy lifestyle culture and training actions for the digital transformation of workers.
In terms of governance, in 2020 the Code of Ethics and Conduct and the Compliance regulatory block were deployed and implemented in all the company's subsidiaries and geographies.
We invite you to download the Sustainability Report Update by clicking here.