16/01/2019
FCC Construccion publishes the Greenhouse Gas Emissions Report of 2017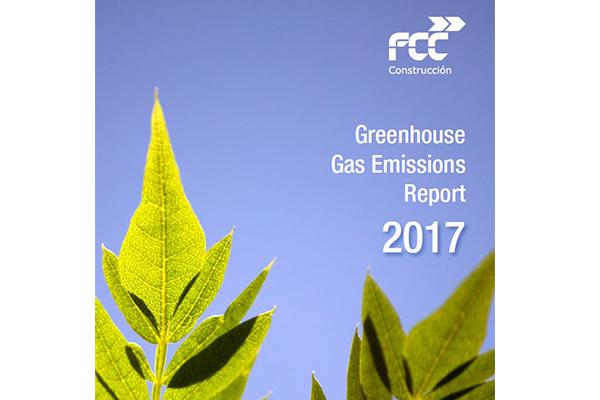 FCC Construccion has published the Greenhouse Gas Emissions Report of 2017, being the year when it started to implement the recommendations of the Climate Stability Board of the Financial Stability Board (TFCD), which were presented at the 2017 G20 summit.
FCC Construccion materialized its commitment in 2010, with the design and implementation of a protocol for the quantification of Greenhouse Gas Emissions in the construction sector. Since then, the company prepares and verifies annually its Greenhouse Gases (GHG) emissions report, being the first Spanish construction company to have verified it by AENOR and having since 2012 AENOR's Environmental certificate "CO2 verified". This initiative was awarded in 2012 with an accesit in the category "Management for sustainable development" of the European Business Awards for the Environment, granted by the organization "Fundación Entorno".
The company has registered its carbon footprints from 2012 to 2016 in the "Carbon footprint, offsetting and carbon sequestration project Register", created in 2014 by the Spanish Ministry for the Ecological Transition, being the first construction company that appeared in said public list. Additionally, for the carbon footprints of 2015 and 2016, we have obtained the "calculate and reduce" label, which, in addition to recognizing the implication and the fact of being able to quantify and verify our greenhouse gas emissions, distinguishes the company as one of the organizations that reduce their carbon footprint effectively. Specifically, FCC Construccion has achieved the distinction, after proving the reduction of 26.35% of the average emission intensity in the 2014-2016 triennium with respect to the 2013-2015 triennium, for the total of its carbon footprint (scope 1, 2 and 3).
As a novelty, during 2017 we have been developing a strategy for combating climate change, which articulates in four main areas (mitigation, adaptation, communication and innovation) the work done and the results obtained since 2010. In these seven years we have been able to calculate our carbon footprint, track down the most carbon intensive activities, establish actions to reduce emissions, raise awareness among our stakeholders and communicate sector examples of Good Practices.
We invite you to visualize the report here.