19/10/2018
FCC Construccion participates actively in the VII National Congress of the ATPYC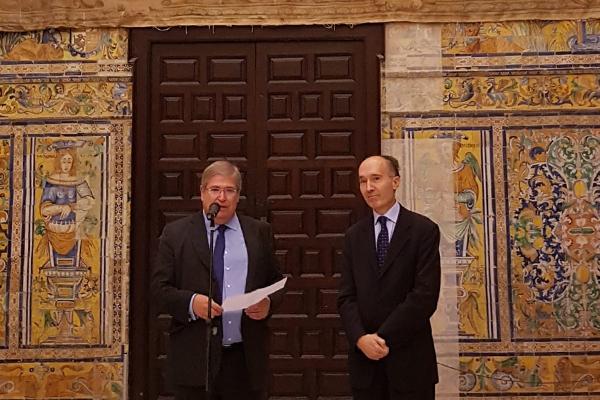 FCC Construccion has participated in the VII National Congress of the ATPYC (Technical Association of Ports and Coasts), held in Seville from October 17 to 19. The opening of the Congress was developed by the president of Puertos del Estado, the president of the Port Authority of Seville, the Advisor for Development and Housing of the Junta Andalucia, the president of the ATPYC and Technical Director of FCC Construccion, Francisco Esteban, among other local representatives.
This VII National Congress has established itself as the reference event among the Spanish technical community in the port and coastal sectors. This event has been organized simultaneously with the fourth edition of the Mediterranean Days of PIANC. An initiative that is carried out jointly with the National Sections of Italy and France, but with a vocation of openness to other nations of the Mediterranean area and of the PIANC group.
The motto chosen for this edition was "Working with Nature", Working with nature. A way of acting, launched for years by PIANC, which is strategic. Working with Nature is a significant step forward in considering the actions based on the use and improvement of the natural processes themselves in order to achieve the specific objectives of the navigation infrastructure. In this way, proactive solutions are promoted that allow reaching the objectives pursued in port, coastal and navigable waterways in a joint, simultaneous and inseparable way with the use of opportunities and improvement of the environmental qualities of the natural environment.
The Technical Committee, made up of representatives from the National Sections of Spain, France and Italy, chose a general topic of the Congress that included fields such as the sustainable management of ports and coasts, adaptation to climate change, the development of sustainable logistics chains or the management of the coastal front. All this without leaving the more traditional fields of the activity of the Association and of PIANC, such as the planning and management of infrastructures or the experiences and innovations in the design, construction and exploitation of new port and coastal works, which always result from the maximum interest and topicality for our partners, both nationally and internationally.