FCC Construcción obtains the prequalification for the construction of the "Green Line Extension" of the Doha Metro
02/02/2018
FCC Construcción obtains the prequalification for the construction of the "Green Line Extension" of the Doha Metro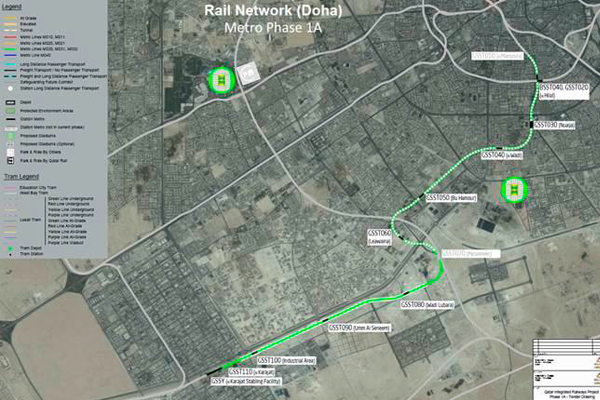 The International Consortium of which FCC Construction has been prequalified for the construction of "Green Line Extension" Doha Metro.
The extension of the Green Line Phase 1A underground line consists of an underground section and an elevated section and another on the surface. The underground section is part of the Green Line and starts in the south at the Al Mansoura station, which belongs to Phase 1 and is currently under construction, ending in the Mesaimeer transition section. This lot includes 7.73 km. Double tunnel drilled through TBM, and five underground stations, of which one is cross with another line City subway.
The surface section is part of the Green Line M30-32 and begins the transition surface and end surface Mesaimeer to station Al Karajat. This lot includes 1.92 km of double track and 5.20 km of viaduct, in addition to 3 elevated stations and 1 surface station with pedestrian bridge access.
In both batches it included the design and implementation of rail systems to be fully automatic and compatible with existing systems designed Phase 1 of the Doha Metro and capable of being expanded in later phases.
FCC and Doha Metro
FCC Construcción continues to develop part of the red line of the Doha Metro. The project includes the construction of the elevated section of the red line RLS of the Qatari capital as a continuation of the red line RLS Underground. It is a section of 6.97 km of metro line, with three elevated stations, with the names of Ras Bu Fontas, Al Wakra and Qatar Economic Zone.
The section executed by FCC within the Red Line, is one of the most advanced in respect of all tranches various international construction companies are running. The viaduct is completely finished, and the stations are in the final phase of architectural finishing and testing of electromechanical equipment.
You can get more information about the Metro Doha project in: https://www.youtube.com/watch?v=gtaDy7NF6U8