FCC Construcción wins the contract for execution of road tunnels in the Plaza de les Glories (Barcelona)
26/02/2018
FCC Construcción wins the contract for execution of road tunnels in the Plaza de les Glories (Barcelona)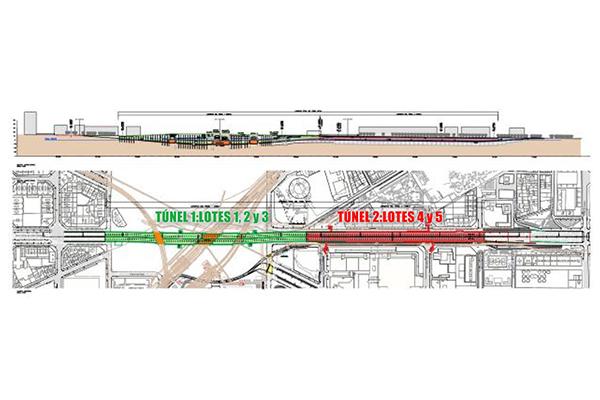 The infrastructure area of the FCC Group, has been the winner, along with other companies in the sector, of the execution contract for the road tunnels of the Plaza de les Glòries (Barcelona), specifically the tunnel between the streets of Badajoz and Rambla del Poblenou , corresponding to the so-called Lot 5. The project has a budget of 13.8 million euros and a deadline of 24 months.
Plaza de les Glories (or road junction of the Plaza de les Glories) is located in the district of Sant Martí, on the border with Eixample. It is the union of three of the most important avenues of the city of Barcelona: Avenida Diagonal, Avenida Meridiana and Gran Vía de les Corts Catalanes. The development of this infrastructure is strategic for the road and / or circulatory development of the city of Barcelona.
The contract awarded to FCC Construcción, affects the northern section of the tunnel, called tunnel two, and includes the earthworks under the roof slab and the laying of the slab; as well as the execution of the drainage network, the pumping well, the network for lowering the water table and the performance of the rest of the activities that will be carried out inside the tunnel until the end of it on the north side. Auxiliary works will also be carried out on the median and the firm of the Gran Vía to the bridge on Bilbao Street, in addition to the redevelopment of the mountain side road.
The infrastructure area of the FCC Group, regarding the execution of road works in Barcelona, has been continuous for more than 117 years. In recent years, it has participated in the construction of the urban streets and in both redevelopment and transformation and specific improvements, without forgetting the important presence in road maintenance contracts.