03/05/2018
FCC Construccion starts the BIMCHECK National R + D + i project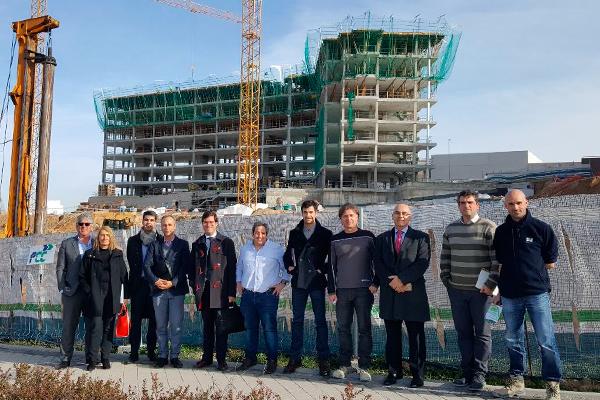 The construction area of the FCC Group is committed to launching projects where the BIM methodology plays an important role as a line of research for its implementation and development in the different areas of the company. This slogan is key to continue improving the operational efficiency of the company through its digital transformation. To that end, BIM is a fundamental axis of this transformation, as recently announced by our Managing Director.
The Center for Industrial Technological Development (CDTI) of the Ministry of Economy, Industry and Competitiveness has approved the BIMCHECK Innovation project, "Implementation of a secure and automated technological management environment based on BIM and Blockchain for FCCCO quality processes" . The work in which will serve as pilot for this project is about the 85 Housing VPPB TRES CANTOS, PLOT RC-1.6.-A (photo). The project lasts approximately one year and a half, and will be developed in collaboration with the DELFOS project ("Comprehensive solution for information certification and automation of quality processes of construction execution based on BIM and Blockchain"). This project is being developed by the Infrastructure, Construction and IT line of Grant Thornton, with the support of Wise Build, a specialist in BIM implementation.
The BIMCHECK project combines two technologies, BIM and Blockchain, in an experience that makes FCC Construcción position itself as a pioneer construction company worldwide to bring the combination of these to a work.
The implementation of the aforementioned New Technologies will serve to enable the technological improvement of current processes in order to minimize work and increase the quality of the work. This project aims to achieve an increase in the efficiency and safety of the process of quality management through its optimization, automation and digitalization.
The main differential and significant aspects with respect to the current methods are:
Increase in accessibility to on-site documentation.
Improvement in the traceability of materials on site.
Improvement in geometric control processes.
Improvement in document control processes.
The improvements in the quality of the information and in the productivity of the management system will result in greater operational efficiency and an increase in the confidence of our customers.