27/07/2018
FCC Construccion starts the construction contract for the new Airbus Central Office Campus (Getafe)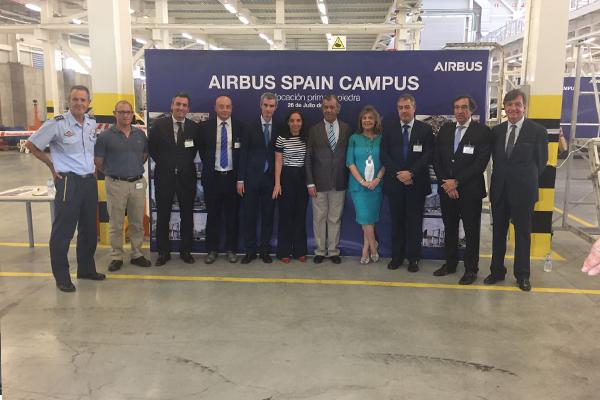 The consortium formed by FCC Construccion and FCC Industrial e Infraestructuras Energeticas has started the construction of the new Campus of Airbus headquarters in Getafe (Madrid).
In a ceremony held on July 26 and brought together the President of Airbus, Director of Spain, Portugal and Algeria of FCC Construccion and the Subdirector of FCC Industrial e Infraestructurass Energeticas as well as other authorities, the first step of what will be the Campus of Central Offices of Airbus.
The contract has a term of execution of 22 months and the parcel object of action has an area of 54,700 square meters, and will be equipped to house 1,600 jobs. It will have buildings for central offices, the Information Management building, the data processing center, the entrance building and a dining room with capacity for 3,000 people. The set is completed with an identification building, and external visiting rooms, as well as a central space that unifies the three main volumes. The buildings are connected by a pedestrian connection as a "backbone" from the northern factory.
Airbus is a world leader in aeronautics, space and related services. In 2017, with a workforce of around 129,000 employees, it generated revenues of 59,000 million euros by applying IFRS 15. Airbus offers the most complete range of passenger aircraft, from 100 seats to more than 600. Airbus is also Europe's leading airline. the manufacture of refueling, combat, transport and mission aircraft, and it is also one of the leading space companies worldwide. In helicopters, Airbus provides the most efficient solutions in the world in civil and military helicopters.
FCC Construction experts in non-residential building
The construction area of the FCC Group has carried out works that have become icons of the main Spanish cities, becoming part of its skyline: the city of Sciences of Valencia, the Porta Fira Tower in Barcelona, the City of Justice of Barcelona, Torre Castellana, Picasso Tower, Wanda Metropolitano, different national and international hospitals, the National Audience, Terminal T4 of the Adolfo Suárez Madrid-Barajas airport, among others.
The company has built highly representative buildings designed by the most prestigious architects, both Spanish and foreign, which make up a true example of Spanish contemporary architecture and incorporate the most advanced techniques of intelligent construction, in management and control of security installations, communication and comfort.
The construction area of the FCC Group has executed more than 25 million square meters of singular non-residential construction.