11/12/2019
FCC Construcción wins its first contract in the Netherlands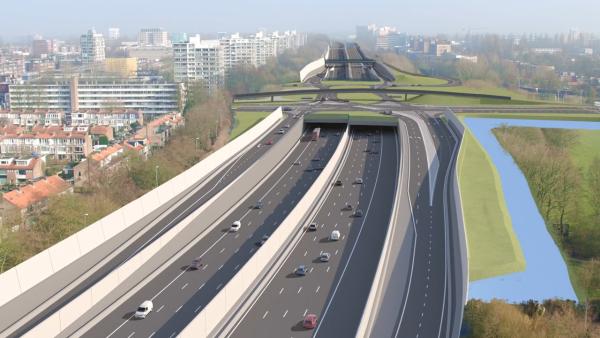 FCC Construcción has won its first contract in the Netherlands. It is about the design, construction, and maintenance of a section of the A9 Badhoevedorp-Holendrecht in the Netherlands, near the city of Amsterdam and its airport. The project has an investment of more than 845 million euros and an execution period of seven years with two more maintenance for FCC (of a total maintenance period of 14 years)
The contract consists of the remodeling of a 10.4-kilometer section of the A9 motorway, which includes the widening of the platform to pass from three to four lanes in each direction, with the corresponding expansion of existing structures, as well as new links with other roads, including bridges and underpasses. In addition there is an important action in the surroundings of the town of Amstelveen, consisting of the partial sunken A9 motorway over 1,5 km with roofs on three places and the execution of a new park on it. One aspect to highlight is that of the bascule bridge over the Schiphol canal, whose board has to be extended within strict technical and term requirements, avoiding possible effects on commercial navigation.
An important point in the development of the project is that it will be executed maintaining the road traffic of the existing highway. All of this implies an important planning and execution effort as well as a management of complex provisional deviations.
FCC Construcción and its experience in highways and motorways.
FCC Construcción has executed more than 8,500 kilometers of road, highway and highway works, in the four continents on which it operates, through all contracting and financing modalities.
In them, the activities developed have included the planning, design, construction of roads, links, auxiliary roads, tunnels, bridges or other structures that were part of the projects; including in some cases the rehabilitation and maintenance of the infrastructure.