23/04/2018
FCC Construccion completes the comprehensive reform of the Fernando Reig bridge in Alcoy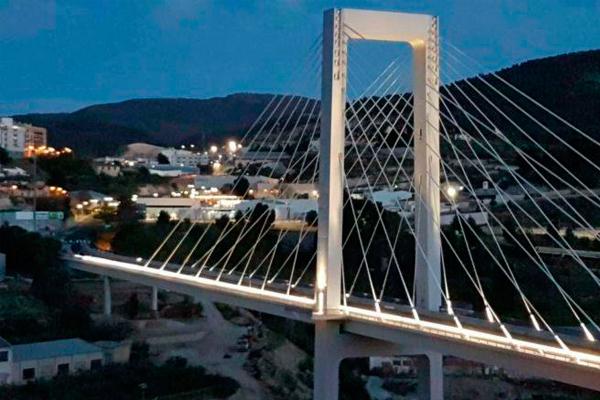 The construction area of the FCC Group has completed the renovation of the Fernando Reig bridge in Alcoy, Alicante. Last Monday, April 16, the Ministry of Public Works inaugurated the reopening of the Fernando Reig Bridge in Alcoy.
The works of structural rehabilitation and functional adequacy of the bridge have been developed in a shorter time than originally planned. The investment has reached 11.6 million euros. The works consisted in the replacement of the 38 bridge steel braces, the central pilaster has been repaired and the aesthetics of the bridge have been modified, modifying the initial pink color of the pillars by a white tone and providing lighting to the infrastructure.
The actions carried out have been necessary to restore and improve the functionality of the work, its durability and the safety of the users. Likewise, during the execution of the works, special emphasis has been placed on safety and health, given that it has been a pioneer intervention in bridges of this type.
The minister has highlighted the "ambitious" of the restoration undertaken, mainly due to the replacement of the 38 steel braces, for which it has been necessary a "complicated and cutting-edge" engineering performance on a "very unique" infrastructure.
This engineering action has arisen from the intense collaboration and involvement of all parties, highlighting especially the actions of FCC, both the construction team and the Technical Services and the specialists in the execution of BBR braces presented, the Ministry of Development and the Fhecor engineering.
With the reopening of this infrastructure the transfer time will be reduced as well as the connectivity of more than 100,000 people.