11/07/2019
FCC Construcción completes the stretch of highway A-21, between Jaca and Santa Cilia (Huesca)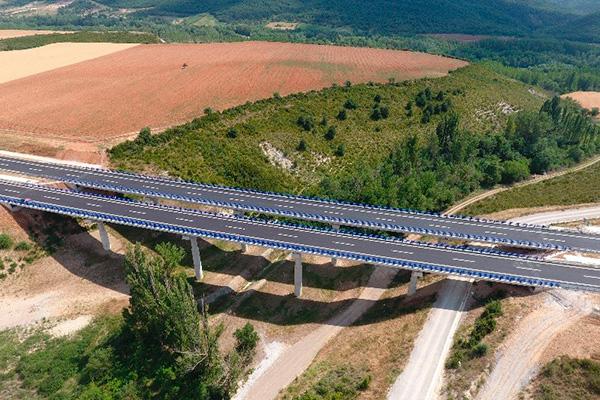 FCC Construcción has completed and has put into service, the stretch of highway between Jaca and Santa Cilia, which is part of the A-21 Jaca - Pamplona highway.
Its length is 8,972 meters and it has a conventional road branch, link to West Jaca, 1,080 meters, which allows the initial provisional connection with the N-240.
The design speed in the section is 120 km / h and its cross section is constituted by two lanes with two lanes of 3.5 meters.
A total of twelve structures are put into service: five viaducts, two bridges with a single span for the passage of two branches of the Ascara junction (Huesca), one upper pass, four underpasses. The two viaducts of greater length and height of piles are those that serve for the crossing over the valleys of the river Lubierre (818 meters and 18 spans) and the river Estarrún (608 meters and 15 spans), for which the project adopts 45-meter lights except the bays that cross the rivers that are 49 meters. The other two viaducts, of shorter length and height, correspond to those of Paulambra and of the Source of 162 meters and 161 meters respectively, with spans of 35 meters. The Jaca Oeste viaduct of 262 meters allows the crossing of the Jaca Oeste branch over the Aragón river.
The motorway built has met the strictest criteria of ecological, aesthetic and landscape planning, leaving some plantations for more favorable times for planting.
The A-21 highway, which runs between the town of Jaca and the boundary of the province of Navarra, is a variant to the current corridor of the N-240 road, which until then was the only alternative route in this itinerary. The most important traffic in the section that occupies us, takes place at present in the environs of Jaca by the relations of the city with its immediate surroundings, but once surpassed its urban surroundings nearer, the data of total vehicles descend to levels discrete given the scarce entity of the existing population centers until Puente la Reina and the absence of connections with other important roads in this stretch.
The commissioning of this section supposes a remarkable improvement with respect to the current conditions, so much in what concerns to road safety as in times of route along the current N-240, what will redound in a remarkable benefit in the case of long-distance traffic along the corridor.