15/04/2021
FCC Construcción completes the "Airbus Futura Campus" in Madrid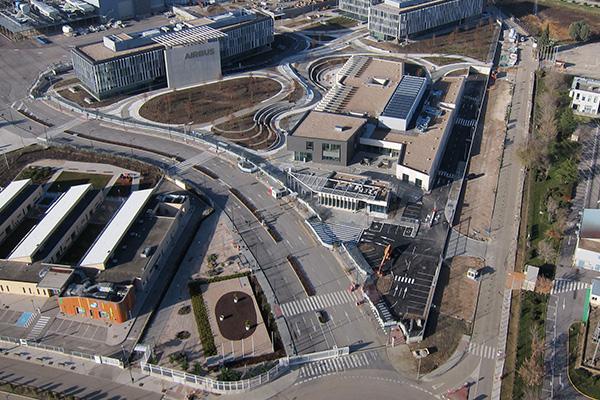 FCC Construcción has completed the "Campus Airbus Futura" project in Getafe, Madrid. The project has been designed by Estudio Lamela Arquitectos and is processing the BREEAM certificate with a VERY GOOD rating, which shows a clear commitment to sustainability and innovation.
FCC Construcción has executed a series of buildings with a similar aesthetic and consistent with the concept of "campus". The main building is the "Central Offices" building in which the corporate headquarters of Airbus Spain is located. The rest of the buildings are used for the corporate dining room, equipped to serve 3,000 meals a day; to the process of identification and security control, as well as to the surface parking with a basement called "Parking P7". The Shared Services building stands out, which has 4 office floors and an underground car park. The most characteristic thing about this building is its large precast concrete façade, which constitutes one of the most complex architectural and engineering challenges that this project has faced.
The urbanization, the backbone of the project, occupies 33,500 square meters, distributed between vehicle and pedestrian roads, as well as garden areas and services. The garden allows workers to enjoy a well-kept nature and ample recreational spaces, and, thanks to the vegetation, soften the high temperatures in summer and the low ones in winter.
The materials used in the facilities involve maximum energy use, in addition to optimizing their maintenance, thus achieving maximum integration of the systems in the building, campus and factory. It has been achieved that each of the elements of the building can be monitored and controlled, obtaining all the information related to consumption and states that allow obtaining not only the maximum energy performance but also reaching the adequate levels of comfort for the workers already living up to Airbus safety standards.
The project has been fully developed in BIM (Building Information Modeling), sharing information in real time between each and every one of the agents involved in the project. This project is one more example of how collaborative work through the BIM methodology.
During the construction of the Airbus corporate headquarters, more than 130,000 cubic meters of earth have been excavated; more than 25,000 cubic meters of fill; More than 36,000 cubic meters of concrete and 3,450,000 kilograms of corrugated steel have been used. All of this is a clear example of the magnitude of the project, constituting one of the main corporate non-residential building infrastructures executed in Spain in recent years.