26/07/2018
FCC Construccion completes the assembly of the "U" beams of line 2 Metro Panama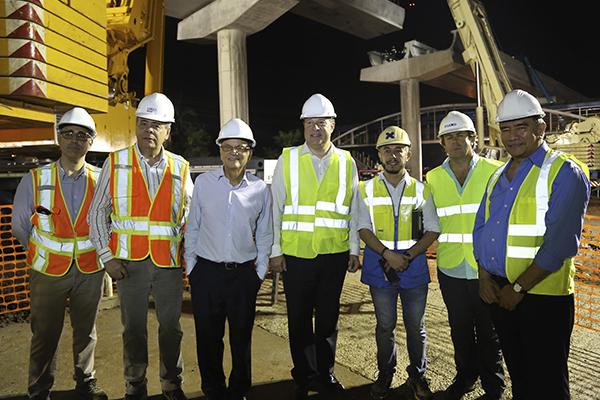 The construction area of the FCC Group culminates the assembly of the "U" beams of line 2 of the Panama Metro. The beam 1,471 was installed in the Av. Domingo Díaz, at the height of the American University (UAM), culminating in this way an important construction milestone for the project Line 2. It has also completed the transfer of the structures with more than 20 meters of length and 166 tons of weight. For the manufacture of these 1,471 pieces, more than 92,673 cubic meters of concrete was used, which was also manufactured at the Centenario Industrial Plant, under high quality standards. It is important to note that Line 2 is not only composed of "U" beams, but also 553 "I and 726" PI "beams have been installed in the more than 21 kilometers that make up the line.
Beams "I" were used in areas of changeways and lengths greater than 30 meters. Of these there are still 10 beams to be hoisted at the point of interconnection of Line 1 with Line 2, in San Miguelito. Meanwhile, "PI" beams are those that are placed in the stations as the base of the lobby slab.
Line 2 jobs report an 82% advance. Currently, there are assets, simultaneously, over 35 construction fronts and work 24 hours a day, seven days a week.
The Line 2 project of Metro Panama began in October 2015, and has generated more than 5,300 direct and indirect jobs, of which 40% are local. This infrastructure when put into full service, scheduled for April 2019, will benefit more than 500,000 Panamanians living in the eastern sector of the capital. The project has 21 kilometers in length and with 16 stations, which will hold 40,000 passengers at rush hour and will be moved with 21 trains. The estimated time of travel between San Miguelito and Nuevo Tocumen, once Line 2 is operational, will be 35 minutes. The trains will have the necessary facilities to be used, comfortably, by people with limited mobility. More than half a million people, 98 communities and 48 educational centers housed along the 21 kilometers will benefit from this work.